Collection:

Dream of St. Sergius I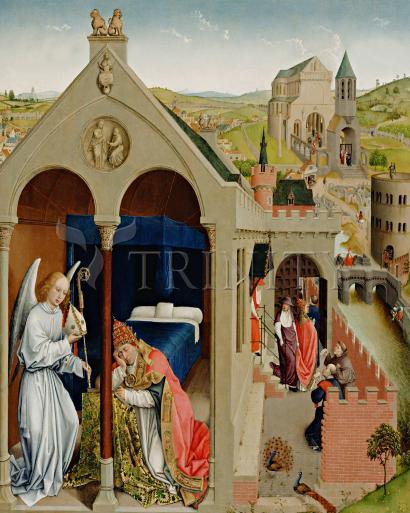 Regular price

From $99.95 USD

Regular price

$111.06 USD

Sale price

From $99.95 USD

Unit price

per

Regular price

From $34.95 USD

Regular price

$38.83 USD

Sale price

From $34.95 USD

Unit price

per

Regular price

From $19.95 USD

Regular price

$22.17 USD

Sale price

From $19.95 USD

Unit price

per

Regular price

From $300.00 USD

Regular price

$333.33 USD

Sale price

From $300.00 USD

Unit price

per

Regular price

From $149.95 USD

Regular price

$166.61 USD

Sale price

From $149.95 USD

Unit price

per

Regular price

From $149.95 USD

Regular price

$166.61 USD

Sale price

From $149.95 USD

Unit price

per

Regular price

From $149.95 USD

Regular price

$166.61 USD

Sale price

From $149.95 USD

Unit price

per
ARTIST: Museum Religious Art Classics
ARTWORK NARRATIVE:
Artist: Rogier van der Weyden – c. 1430
A cut-away wall reveals a small bedroom where an angel appears to Pope Sergius I in his sleep. The angel tells Sergius that the bishop Saint Lambert has been assassinated and Sergius is to appoint a new bishop, Saint Hubert. The angel holds a bishop's miter and crozier formerly belonging to Saint Lambert. To the right, the Pope and two cardinals go out into a brick enclosure, meeting a lawyer or noble and a Franciscan friar, who both kneel before the papal retinue and present petitions requesting benefits or indulgences.
In the far distance, on the steps of the early Saint Peter's Cathedral, Pope Sergius I presents Saint Hubert with the bishop's miter and staff. The artists made an imaginative effort to recreate Rome as it would have appeared at that time. The depiction of minutely detailed objects and the ability to portray space in a convincing manner were among the major achievements of Netherlandish painters in the 1400s.
His feast day is September 8.