Collection:

Mother Jones of America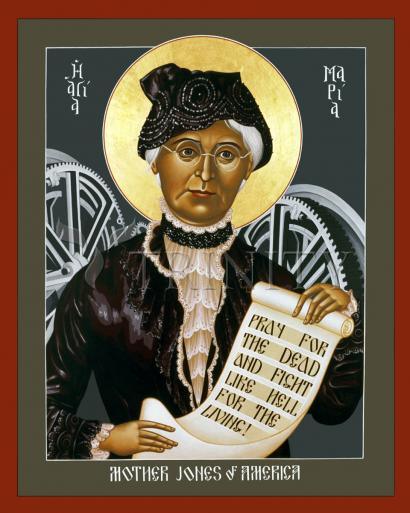 Regular price

From $99.95 USD

Regular price

$111.06 USD

Sale price

From $99.95 USD

Unit price

per

Regular price

From $34.95 USD

Regular price

$38.83 USD

Sale price

From $34.95 USD

Unit price

per

Regular price

From $109.95 USD

Regular price

$122.17 USD

Sale price

From $109.95 USD

Unit price

per

Regular price

From $109.95 USD

Regular price

$122.17 USD

Sale price

From $109.95 USD

Unit price

per

Regular price

From $109.95 USD

Regular price

$122.17 USD

Sale price

From $109.95 USD

Unit price

per

Regular price

From $84.95 USD

Regular price

$94.39 USD

Sale price

From $84.95 USD

Unit price

per

Regular price

From $94.95 USD

Regular price

$105.50 USD

Sale price

From $94.95 USD

Unit price

per

Regular price

From $94.95 USD

Regular price

$105.50 USD

Sale price

From $94.95 USD

Unit price

per

Regular price

From $19.95 USD

Regular price

$22.17 USD

Sale price

From $19.95 USD

Unit price

per

Regular price

From $300.00 USD

Regular price

$333.33 USD

Sale price

From $300.00 USD

Unit price

per
ARTIST: Br. Robert Lentz, OFM
ARTWORK NARRATIVE:
A government official once called Mary Jones "The most dangerous woman in America." She was dangerous to the established order because she was fearless in her defense of the oppressed working class. For 60 years she went into mining towns where men often feared to go, organizing unions. The miners called her "Mother" Jones.

Government militia imprisoned her in jails, tents, and sewers. She was sent out of town by train, but she came back. To keep owners from breaking strikes with scab labor, she organized miner's wives into brigades armed with brooms, mops and buckets. "I live in the United States," she once told a Congressman, "but I do not know exactly where. My address is wherever there is a fight against oppression. My address is like my shoes -- it travels with me."

She compared the labor movement with the flight of the Jews from Egypt. "The labor movement, my friends, was a command from God Almighty. He commanded the prophet to redeem the Israelites that were in bondage. He organized the men into a union." Thousands attended her requiem Mass when she died at the age of 100.

In this icon she stands in front of massive mining machinery. She is wearing dark Victorian clothing, as was her custom. The text on her scroll is from an exhortation she gave to West Virginia miners in 1902. The Greek inscription by her head reads "Holy Mary."

Read More
The elderly woman smoothed her black dress and touched the lace at her throat and wrists. Her snow-white hair was gathered into a knot at the nape of her neck, and a black hat, trimmed with lavender ribbons to lend a touch of color, shaded her finely wrinkled face. She was about five feet tall, but she exuded energy and enthusiasm. As she waited to speak, her bright blue eyes scanned the people grouped beyond the platform. Her kindly expression never altered as her voice broke over the audience: "I'm not a humanitarian," she exclaimed. "I'm a hell-raiser."
And she was. She was Mary Harris "Mother" Jones, and her size and grandmotherly appearance belied her fiery nature. When she stepped on a stage, she became a dynamic speaker. She projected wide variations in emotion, sometimes striding about the stage in "a towering rage." She could bring her audience to the verge of tears or have them clapping and "bursting with laughter." She was a good storyteller, and "she excelled in invective, pathos, and humor ranging from irony to ridicule."
Mother Jones's low, pleasant voice had great carrying power. It was unusual because it "did not become shrill when she became excited but, rather, dropped in pitch so that "˜the intensity of it became something you could almost feel physically.' When she rose to speak, Mother Jones "˜seemed to explode in all directions...' and suddenly everyone sat up alert and listened. No matter what impossible ideas she brought up, she made the miners think she and they together could do anything."
Elizabeth Gurley Flynn, a nationally known labor organizer, called Jones "the greatest woman agitator of our times." She was denounced in the U.S. Senate as the grandmother of all agitators. Mother Jones was proud of that title and said she hoped to live to be the great grandmother of agitators.
Mother Jones, born in Cork, Ireland, on May 1, 1830, came from a long line of agitators. When she was a child, she watched British soldiers march through the streets, the heads of Irishmen stuck on their bayonets. Her father's father, an Irish freedom fighter, was hanged; her father was forced to flee to America with his family in 1835.
Jones grew up in Toronto, Ontario, where she attended the public schools and graduated from normal school at age seventeen. She seemed to be, according to all accounts, ambitious and adventuresome. She taught in a convent school in Michigan for eight months, then moved to Chicago, where she worked as a dressmaker. "I preferred sewing to bossing little children," she said. She moved to Memphis, Tennessee, again to teach school. And there, in 1861, she met and married George E. Jones, an iron molder who was "a staunch member" of the Iron Molders Union.
Jones's biographer, Dale Fetherling claims that Mother Jones learned a great deal about unions and about the psychology of workingmen from her husband. And later, when much of her work was with women, she tried to pass on to them what she had learned: "That is, the wife must care for what the husband cares for if he is to remain resolute."
Life was relatively good for Mary Harris Jones until 1867. That year, when she was 37 years old, within one week her husband and their four small children died in a yellow fever epidemic. After the epidemic had run its course, she returned to Chicago where, once again, she began to work as a dressmaker.
But tragedy followed Mother Jones. Four years later, in 1871, she lost everything she owned in the great Chicago fire. That event also changed her life drastically, and she discovered a new path to follow. She became involved in the labor movement and began to attend meetings of the newly formed Knights of Labor "in an old, tumbled down, fire scorched building."
One biographer believes that Mother Jones's interest in the labor movement really began when she sewed for wealthy Chicago families and observed the blatant economic and social inequities that existed. According to Fetherling, she said: "Often while sewing for the lords and barons who lived in magnificent houses on the Lake Shore Drive, I would look out of the plate glass windows and see the poor, shivering wretches, jobless and hungry, walking alongside the frozen lake front... The contrast of their condition with that of the tropical comfort of the people for whom I sewed was painful to me. My employers seemed neither to notice nor to care."
The early Knights of Labor, with their ideals and their sense of fraternity, fulfilled some need within Mother Jones and fitted well with what she had learned from her husband. According to Fetherling, "Coming, as it did, on top of successive personal tragedies, the experience (with the Knights of Labor) forged an amalgam of compassion and fervor which would serve her well in industrial wars over the next half a century." Wherever there were labor troubles, there was Mother Jones -- the "Miners Angel."
Mother Jones apparently stayed in Chicago, working as a seamstress, for two or three years after the fire. She had no fixed home, but she made Chicago her base as she traveled back and forth across the country, from industrial area to industrial area. When asked where she lived, she replied: "Well, wherever there is a fight." She lived with the workers, in tent colonies or in shantytowns, near the mills or in the shadow of the tipples. As Fetherling pointed out, "In lieu of a family, she would adopt America's toilers, and they would call her 'Mother.'"
During the time she was most active in the labor movement, the country was changing dramatically, from an agrarian economy to an industrial economy. Small enterprises were replaced by large ones.
"The nature of work and of workers was altered. Waves of immigrants and displaced farmers dug the nation's coal and forged its steel. All too often, they received in return only starvation wages and nightmarish conditions. Within these men smoldered the sparks of class conflict which Mother Jones would fan for 50 years. To these workers, she would become an anchor to the past and an arrow toward a better future."
She always worked either for or with the working people, and often she was at odds with union leaders. "Her skill was the invaluable but incalculable one of tending to men's spirits, of buoying them, of goading them to fight even though the battle seemed hopeless."
When there was a strike, Mother Jones organized and helped the workers; at other times, she held educational meetings. In 1877, she helped in the Pittsburgh railway strike; during the 1880s she organized and ran educational meetings; in 1898 she helped found the Social Democratic Party; and in 1905 she was present at the founding of the Industrial Workers of the World.
After 1890 she became involved in the struggles of coal miners and became an organizer for the United Mine Workers, attending her first UMWA convention on January 25, 1901. She had been on the union payroll for the past year. Her earlier work in miners' strikes and organizing had been as a volunteer, not as an employee.
She resigned as a UMWA organizer in 1904 and became a lecturer for the Socialist Party of America for several years, traveling throughout the southwest. Although sometimes she participated in strikes and organized drives for various unions, her main interest was in raising funds for the defense of Mexican revolutionists in the United States who were being arrested or deported.
Mother Jones was one of the founders of the Industrial Workers of the World (IWW). In 1905, she was the only woman among 27 persons who signed the manifesto that called for a convention to organize all industrial workers. She later left the organization, but she remained friendly with many of its leaders.
Mother Jones left the Socialist Party in 1911 to return to the payroll of the United Mine Workers, as an organizer. The new president, John P. White, was an old friend who agreed that she would set her own agenda. She expected that her talents "would have full scope." In 1923, when she was 93 years old, she was still working among striking coal miners in West Virginia.
She came to national attention in 1912-13, during the Paint Creek-Cabin Creek strike in West Virginia, because of the publicity resulting from frequent violence. Mother Jones remembered the lessons learned from her late husband, and she often involved the wives and children of miners to dramatize a situation. On September 21, 1912, she led a march of miners' children through the streets of Charleston, West Virginia; on February 12, 1913, she led a protest about conditions in the strike area and was arrested.
She was convicted by a military court of conspiring to commit murder and was sentenced to 20 years in prison. Her trial, conviction, and imprisonment created such a furor that the U.S. Senate ordered a committee to investigate conditions in the West Virginia coalfields. However, on May 8, 1913, before the investigation got underway, newly elected governor Hatfield set Mother Jones free. She was 83 years old.
Later in 1913 Mother Jones traveled to Colorado to participate in the yearlong strike by miners there. She was evicted from mine company property several times, but returned each time. She was arrested and imprisoned twice: "first for more than two months in relative comfort in Mt. San Rafael hospital, and again for twenty-three days in the Huerfano County jail in Walsenburg, where the conditions of her semi-basement cell were appalling."
Mother Jones was especially touched by the "machine-gun massacre" of miners and their families in a tent colony at Ludlow, Colorado, on April 20, 1914, when 20 people were killed. She traveled across the country, telling the story. Members of the House Mines and Mining Committee and President Wilson responded by proposing that the union and the owners agree to a truce and create a grievance committee at each mine.
Mother Jones was notable for attracting publicity and attention from the government for the cause of workers. One of her best-known activities was leading a march of miners' wives "who routed strikebreakers with brooms and mops in the Pennsylvania coalfields in 1902." Another was leading the "children's crusade," a caravan of striking children from the textile mills of Kensington, Pennsylvania, to President Theodore Roosevelt's home in Long Island, New York, in 1903, to dramatize the case for abolishing child labor.
Mother Jones went on to participate in 1915 and 1916 in the strikes of garment workers and streetcar workers in New York, and in the strike of steel workers in Pittsburgh in 1919. In January 1921, at the age of 91, as a guest of the Mexican government, she traveled to Mexico to attend the Pan-American Federation of Labor meeting. According to one writer, "It was the high point of recognition in her role in the labor movement."
In 1922 Mother Jones left the United Mine Workers. She disagreed with the policies of John L. Lewis, and Lewis did not reappoint her as an international organizer.
Although she was hospitalized several times, she continued to speak when her health permitted. Her last known public address was in Alliance, Ohio, in 1926, when she was the guest of honor at a Labor Day celebration. Her last public appearance was at her 100th birthday party, May 1, 1930, at a reception in Silver Spring, Maryland. She read congratulatory messages and "made a fiery speech for the motion-picture camera."
Mother Jones lived in an incredible era. As biographer Dale Fetherling points out, she "was born... less than 50 years after the end of the American Revolution. Yet, she died on the eve of the New Deal. She was alive when Andrew Jackson was president, and she sometimes quoted from speeches she heard Lincoln make. As an adult she knew the Civil War, the Spanish- American War, and World War I. She rode in automobiles, and she saw the railroads link the oceans. She saw and was seen in films and came to know the everyday use of the telephone, the electric light, and the radio. She watched unions grow from secret groups of hunted men to what she feared was a complacent part of the established order... It may have been a good time to live in America. But it also was a time in which one needed to fight very hard to survive. That she did."
Mary Harris Jones died in Silver Spring on November 30, 1930, seven months after her one-hundredth birthday. She was buried in the Union Miners Cemetery at Mount Olive, Illinois, in the coalfields of southern Illinois. Her grave is near those of the victims of the Virden, Illinois, mine riot of 1889.
—Excerpts from Mother Jones: The Miners' Angel by Mara Lou Hawse