Collection:

St. Francis, Father of the Poor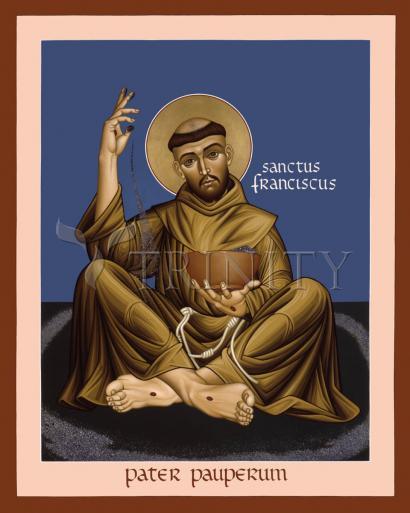 Regular price

From $99.95 USD

Regular price

$111.06 USD

Sale price

From $99.95 USD

Unit price

per

Regular price

From $34.95 USD

Regular price

$38.83 USD

Sale price

From $34.95 USD

Unit price

per

Regular price

From $109.95 USD

Regular price

$122.17 USD

Sale price

From $109.95 USD

Unit price

per

Regular price

From $109.95 USD

Regular price

$122.17 USD

Sale price

From $109.95 USD

Unit price

per

Regular price

From $109.95 USD

Regular price

$122.17 USD

Sale price

From $109.95 USD

Unit price

per

Regular price

From $84.95 USD

Regular price

$94.39 USD

Sale price

From $84.95 USD

Unit price

per

Regular price

From $94.95 USD

Regular price

$105.50 USD

Sale price

From $94.95 USD

Unit price

per

Regular price

From $94.95 USD

Regular price

$105.50 USD

Sale price

From $94.95 USD

Unit price

per

Regular price

From $19.95 USD

Regular price

$22.17 USD

Sale price

From $19.95 USD

Unit price

per

Regular price

From $300.00 USD

Regular price

$333.33 USD

Sale price

From $300.00 USD

Unit price

per
ARTIST: Br. Robert Lentz, OFM
ARTWORK NARRATIVE:
The writings of St. Francis are filled with an insistence that God alone is good. His entire spiritual life was based on this realization. Whatever we accomplish, whatever good we see in ourselves or in the world around us, is the free gift of God. Because all humans and all of creation depend so radically on the good God, we are all related as sisters and brothers.

Once when St. Clare and her nuns kept insisting that Francis come and preach to them in person, he surprised them with a symbolic action that encouraged them to look beyond his person to the goodness of God. He asked for a bowl of ashes which he scattered in a circle on the ground. He sat down in the circle and scattered the rest of the ashes on himself. He then prayed a penitential psalm to acknowledge what we would be without God, and walked away in silence. The nuns understood him completely.

How often the daughters of St. Clare have reminded the world of the values of poverty and humility. First to receive the sermon of the ashes, they have kept it alive through the centuries, drawing us back to what is true. Franciscan friars presented this icon in gratitude to Mother Mary Francis and the Poor Clare nuns of Roswell, New Mexico, on July 26, 2004.

His feast day is October 4.
Read More
Saint Francis of Assisi, Italian San Francesco d'Assisi, baptized Giovanni, renamed Francesco, original name Francesco di Pietro di Bernardone (born 1181/82, Assisi, duchy of Spoleto [Italy]—died October 3, 1226, Assisi; canonized July 16, 1228; feast day October 4), founder of the Franciscan orders of the Friars Minor (Ordo Fratrum Minorum), the women's Order of St. Clare (the Poor Clares), and the lay Third Order. He was also a leader of the movement of evangelical poverty in the early 13th century. His evangelical zeal, consecration to poverty, charity, and personal charisma drew thousands of followers. Francis's devotion to the human Jesus and his desire to follow Jesus' example reflected and reinforced important developments in medieval spirituality. The Poverello ("Poor Little Man") is one of the most venerated religious figures in Roman Catholic history, and he and Catherine of Siena are the patron saints of Italy. In 1979 Pope John Paul II recognized him as the patron saint of ecology.
Francis was the son of Pietro di Bernardone, a cloth merchant, and the lady Pica, who may have come from France. At Francis's birth, his father was away on a business trip to France, and his mother had him baptized Giovanni. On his return, however, Pietro changed the infant's name to Francesco because of either his interest in France or his wife's background. Francis learned to read and write Latin at the school near the church of San Giorgio, acquired some knowledge of French language and literature, and was especially fond of the Provenƈal culture of the troubadours. He liked to speak French (although he never did so perfectly) and even attempted to sing in the language. His youth was most likely without serious moral lapses, and his exuberant love of life and a general spirit of worldliness made him a recognized leader of the young men of the town.
In 1202 he took part in a war between Assisi and Perugia, was held prisoner for almost a year, and on his release fell seriously ill. After his recovery, he attempted to join the papal forces under Count Gentile against the emperor Frederick II in Apulia in late 1205. On his journey, however, he had a vision or dream that bade him return to Assisi and await the call to a new kind of knighthood. On his return, he dedicated himself to solitude and prayer so that he might know God's will for him.
Several other episodes contributed to his conversion to the apostolic life: a vision of Christ while Francis prayed in a grotto near Assisi; an experience of poverty during a pilgrimage to Rome, where, in rags, he mingled with the beggars before St. Peter's Basilica and begged alms; an incident in which he not only gave alms to a leper (he had always felt a deep repugnance for lepers) but also kissed his hand. Among such episodes, the most important, according to his disciple and first biographer, Thomas of Celano, occurred at the ruined chapel of San Damiano outside the gate of Assisi when Francis heard the crucifix above the altar command him: "Go, Francis, and repair my house which, as you see, is well-nigh in ruins." Taking this literally, Francis hurried home, gathered some fine cloth from his father's shop, and rode off to the nearby town of Foligno, where he sold both cloth and horse. He then tried to give the money to the priest at San Damiano, whose refusal prompted Francis to throw the money out the window. Angered, his father kept him at home and then brought him before the civil authorities. When Francis refused to answer the summons, his father called him before the bishop of Assisi. Before any accusations were made, Francis "without a word peeled off his garments even removing his breeches and restored them to his father." Completely naked, he said: "Until now I have called you my father on earth. But henceforth I can truly say: Our Father who art in heaven." The astonished bishop gave him a cloak, and Francis went off to the woods of Mount Subasio above the city.
Francis renounced worldly goods and family ties to embrace a life of poverty. He repaired the church of San Damiano, refurbished a chapel dedicated to St. Peter the Apostle, and then restored the now-famous little chapel of St. Mary of the Angels (Santa Maria degli Angeli), the Porziuncola, on the plain below Assisi. There, on the feast of St. Matthias, February 24, 1208, he listened at mass to the account of the mission of Christ to the Apostles from the Gospel According to Matthew (10:7, 9—11): "And as you go, preach the message, "˜The kingdom is at hand!'...Take no gold, nor silver, nor money in your belts, no bag for your journey, nor two tunics, nor sandals, nor a staff; for the laborer deserves his food. And whatever town or villa you enter, find out who is worthy in it, and stay with him until you depart." According to Thomas of Celano, this was the decisive moment for Francis, who declared, "This is what I wish; this is what I am seeking. This is what I want to do from the bottom of my heart." He then removed his shoes, discarded his staff, put on a rough tunic, and began to preach repentance.
Born: 1181 at Assisi, Umbria, Italy as Francis Bernardone
Died: October 4, 1226 at Portiuncula, Italy
Canonized: 1228 by Pope Gregory IX