Collection:

Fr. Tom's Crucifix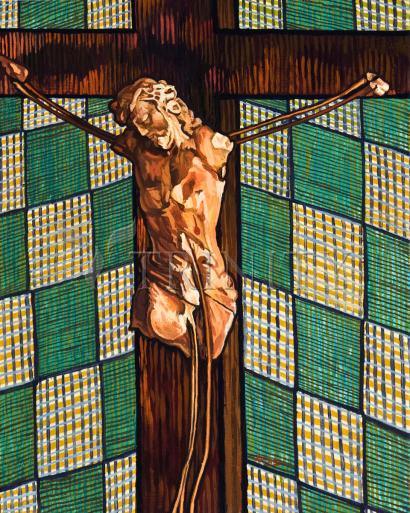 Regular price

From $99.95 USD

Regular price

$111.06 USD

Sale price

From $99.95 USD

Unit price

per

Regular price

From $34.95 USD

Regular price

$38.83 USD

Sale price

From $34.95 USD

Unit price

per

Regular price

From $19.95 USD

Regular price

$22.17 USD

Sale price

From $19.95 USD

Unit price

per

Regular price

From $300.00 USD

Regular price

$333.33 USD

Sale price

From $300.00 USD

Unit price

per

Regular price

From $109.95 USD

Regular price

$122.17 USD

Sale price

From $109.95 USD

Unit price

per

Regular price

From $109.95 USD

Regular price

$122.17 USD

Sale price

From $109.95 USD

Unit price

per

Regular price

From $109.95 USD

Regular price

$122.17 USD

Sale price

From $109.95 USD

Unit price

per

Regular price

From $84.95 USD

Regular price

$94.39 USD

Sale price

From $84.95 USD

Unit price

per

Regular price

From $94.95 USD

Regular price

$105.50 USD

Sale price

From $94.95 USD

Unit price

per
ARTIST: Lewis Williams, OFS
ARTWORK NARRATIVE:
Gerry Straub, writer and documentary film maker shared the story of this relic of the January, 2010 earthquake in his book, Hidden in the Rubble. The artist viewed it on a trip in January, 2013. It belongs to a humble servant of the poor, Fr. Tom Hagan, an oblate of St. Francis de Sales and founder of Hands Together, Haiti. This crucifix belonged to his parents and hung in their bedroom for years. He received it after their death and it has been with him in all his work in Haiti. It was in his chapel the afternoon of January 12 when the ground rumbled, flattening the chapel and much of Port au Prince, killing upwards of 300,000 people. The bodies of two seminarians were found in the ruins, as well as this cross. Like many survivors, Christ, too, had suffered a loss of limbs in his plaster corpus. Fr. Tom immediately noted the symbolism of Christ's presence with us in our suffering. The crucifix has the place of honor in his chapel at the Hands Together headquarters in Haiti. No one is sure if the wound in Christ's side showed evidence of blood before the quake.
Read More
Cite Soleil is the largest slum in Haiti and considered a major slum in the northern hemisphere. Estimates of the population run from 200,000 to 300,000 residents who live deprived of basic services, all packed into a rat and garbage infested area of approximately three square miles. The living conditions defy the imagination of most Americans. Up until recently, there was little police or protection, little or no electricity, little access to clean water, no sewers, and at best, rudimentary health care and education facilities. Generally regarded as one of the nation's poorest, roughest and most dangerous areas, the shantytown was originally designated to house manual laborers but has become home to many Haitians as they sought to escape the countryside. What they found, instead, was extreme poverty and insufficient jobs. Most residents are children or young adults. Few live past the age of fifty — dying from disease or violence. The area is also prone to frequent flooding that turns the unpaved streets to sludge of mud mixed with sewerage. Shacks average nine residents in each, and some are so small that inhabitants must sleep in shifts. Most residents live on less than a $1 per day, with more than half living on less than $.44 per day. The illiteracy rate is reported to be as high as 87%.
The 2006 election of President Rene Preval is said to have marked a turning point for Haiti as a whole, however, prior to Feb. 2007, the violence and insecurity in Cite Soleil had escalated to such a point that most foreign aid organizations had pulled out of the area. A controversial UN action initiated within Cite Soleil at that time has, by most accounts, succeeded in providing a much needed respite from chaos and violence, with many Haitians and others in the know expressing hope that this period of relative calm might offer an opportunity to confront the myriad of issues that exists both in Cite Soleil and the country as a whole.
As one might expect, there are really no specific health statistics available for Cite Soleil, but in looking at what we know of the realities in Haiti we know that life expectancy is very low — hovering around 50 years of age. Neonatal, infant and maternal mortality rates are extremely high and are related to lack of basic services, sanitation, food and clean water. Infectious disease rates, including HIV/AIDS, TB, typhoid, malaria and dysentery are high. The teen birth rate is also very high, as is the incidence of Sexually Transmitted Diseases (STD's). Child deaths from diarrhea and dehydration, so easily preventable, are rampant. Further compounding the risks to the young are very low childhood immunization rates.
It can be challenging to get a good feel for what health care services are currently available in Cite Soleil, however, our Haitian partners from the BYA and SPARE report that there are currently a handful of providers including CHAPI/Choscal Hospital (Medicines Sans Frontieres); St. Katrin; and, Men Ansanm (Hands Together).
Clearly, given the population and the serious challenges to their health, this area remains critically underserved. Add to that, the fact that not all are free, and even those that offer free consultation do not offer free medications and instead provide prescriptions that the residents of Cite Soleil often cannot afford to have filled.
When neighborhood representatives were asked to discuss the relative merits of native practitioners versus foreign led and staffed efforts, they reported that there is often more acceptance of foreign trained personnel who are often viewed as more credible, competent and organized. There also seems to be a feeling that there is more respect, more communication, more readily available medicines, and a better chance for confidentiality associated with foreign efforts.
When asked about the most serious problems that seem to exist in Cite Soleil in term of health issues, the following is what came up:
1. Malnutrition
2. High Teen Birth Rate
3. Dehydration
4. Lack of Prenatal Care
5. Hypertension
6. Lack of Childhood Immunizations
7. Infections
8. Eye Problems
9. TB
10. HIV/AIDS
11. Skin Problems
12. Lack of Family Planning/Contraception Svcs.
There was general consensus around several key issues and points that must be addressed by any effort if it is to be truly successful in meeting the needs of the residents of Cite Soleil:
There must be a strong advocacy component to any effort. Without access to basic items like clean water, sanitation and adequate nutrition there is little that can be done to alleviate the problems or to have any impact on elevating the health status of the population.
There must be a strong education component to any effort that begins with a holistic approach to care and takes into account all the barriers faced so that they can be addressed to the extent possible within the current environment.
There must be an adequate supply of free medicines available given the poverty of this population. (Attendees reported that, when faced with overwhelming health issues, some families have to resort to dangerous and predatory lending, or even illegal activities in order to deal with the situation which would otherwise be beyond their means).
Care must be available on a regular basis and not just on an episodic basis like a once a month clinic. Although anything we do will be appreciated, the fact remains that holding a once a month clinic is really just a band aid for these people who need to have ongoing access to some expertise, supplies and medications. It does seem that the approach of training and mentoring Community Health Workers would be seen in a positive light and has worked well in other parts of Haiti.