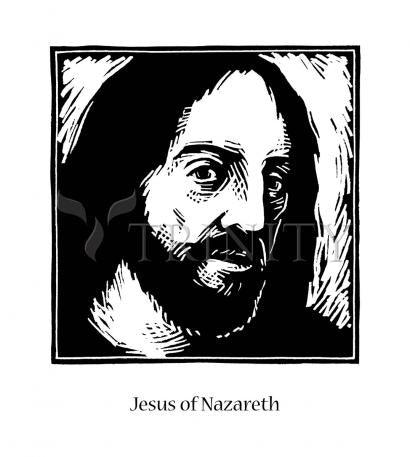 Regular price

From $99.95 USD

Regular price

$111.06 USD

Sale price

From $99.95 USD

Unit price

per

Regular price

From $34.95 USD

Regular price

$38.83 USD

Sale price

From $34.95 USD

Unit price

per

Regular price

From $19.95 USD

Regular price

$22.17 USD

Sale price

From $19.95 USD

Unit price

per

Regular price

From $300.00 USD

Regular price

$333.33 USD

Sale price

From $300.00 USD

Unit price

per

Regular price

From $149.95 USD

Regular price

$166.61 USD

Sale price

From $149.95 USD

Unit price

per

Regular price

From $149.95 USD

Regular price

$166.61 USD

Sale price

From $149.95 USD

Unit price

per

Regular price

From $149.95 USD

Regular price

$166.61 USD

Sale price

From $149.95 USD

Unit price

per
ARTIST: Julie Lonneman
ARTWORK NARRATIVE:
For God so loved the world, that he sent his only Son, so that whoever believes in him may not die, but have eternal life.
(John 3:16)
Read More
Holy Name of Jesus:
We give honor to the Name of Jesus, not because we believe that there is any intrinsic power hidden in the letters composing it, but because the Name of Jesus reminds us of all the blessings we receive through our Holy Redeemer. To give thanks for these blessings we revere the Holy Name, as we honor the Passion of Christ by honoring His Cross (Colvenerius, "De festo SS. Nominis", ix).
At the Holy Name of Jesus we uncover our heads, and we bend our knees; it is at the head of all our undertakings, as the Emperor Justinian says in his law-book: "In the Name of Our Lord Jesus we begin all our consultations". The Name of Jesus invoked with confidence brings help in bodily needs, according to the promise of Christ: "In my name they shall take up serpents; and if they shall drink any deadly thing, it shall not hurt them: they shall lay their hands upon the sick, and they shall recover" (Mark, xvi, 17,18.).
In the Name of Jesus the Apostles gave strength to the lame (Acts, iii, 6; ix, 34) and life to the dead (Acts, ix. 40).
It gives consolation in spiritual trials. The Name of Jesus reminds the sinner of the prodigal son's father and of the Good Samaritan; it recalls to the just the suffering and death of the innocent Lamb of God.
It protects us against Satan and his wiles, for the Devil fears the Name of Jesus, who has conquered him on the Cross.
In the Name of Jesus we obtain every blessing and grace for time and eternity, for Christ has said: "If you ask the Father anything in my name he will give it you." (John, xvi, 23) Therefore the Church concludes all her prayers by the words: "Through Our Lord Jesus Christ", etc.
So the word of St. Paul is fulfilled: "That in the name of Jesus every knee should bow, of those that are in heaven, on earth, and under the earth" (Phil., ii, 10).