Collection:

St. Anthony of Padua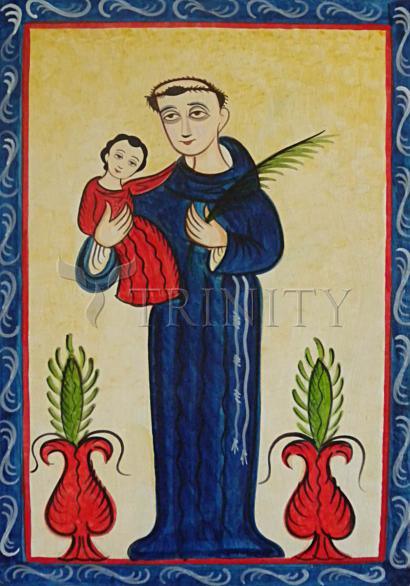 Regular price

From $99.95 USD

Regular price

$111.06 USD

Sale price

From $99.95 USD

Unit price

per

Regular price

From $34.95 USD

Regular price

$38.83 USD

Sale price

From $34.95 USD

Unit price

per

Regular price

From $19.95 USD

Regular price

$22.17 USD

Sale price

From $19.95 USD

Unit price

per

Regular price

From $300.00 USD

Regular price

$333.33 USD

Sale price

From $300.00 USD

Unit price

per

Regular price

From $139.95 USD

Regular price

$155.50 USD

Sale price

From $139.95 USD

Unit price

per

Regular price

From $139.95 USD

Regular price

$155.50 USD

Sale price

From $139.95 USD

Unit price

per

Regular price

From $139.95 USD

Regular price

$155.50 USD

Sale price

From $139.95 USD

Unit price

per
ARTIST: Br. Arturo Olivas, OFS
ARTWORK NARRATIVE:
Older, unremodeled churches most always count St. Anthony among their pantheon of statues. The saint of Padua is usually sculpted or portrayed holding the child Jesus—or a lily—or a book—or all three—in his arms. A bank of vigil lights will burn in front of the statue.

Anthony was born in 1195 (13 years after St. Francis) in Lisbon (now Portugal, then a part of Spain), and given the name of Fernando at Baptism. His parents, Martin and Mary Bulhom, apparently belonged to one of the prominent families of the city.

At the age of 15 he entered the religious order of St. Augustine. Monastery life was hardly peaceful for young Fernando, nor conducive to prayer and study, as his old friends came to visit frequently and engaged in vehement political discussions.

After two years he was sent to Coimbra. There he began nine years of intense study, learning the Augustinian theology which he would later combine with the Franciscan vision. Fernando was probably ordained a priest during this time.

His feast day is June 13.
Read More
Anthony's wealthy family wanted him to be a great nobleman, but for the sake of Christ he became a poor Franciscan priest.

When the remains of St. Berard and his companions, the first Franciscan martyrs, were brought to be buried in his church, Anthony was moved to leave his order, enter the Friars Minor, and go to Morocco to evangelize. Shipwrecked at Sicily, he joined some other brothers who were going to Portiuncula. He lived in a cave at San Paolo leaving only to attend Mass and sweep the nearby monastery. One day when a scheduled speaker failed to appear, the brothers pressed him into speaking. He impressed them so that he was thereafter constantly travelling, evangelizing, preaching, and teaching theology through Italy and France.

A gifted speaker, he attracted crowds everywhere he went, speaking in multiple tongues; legend says that even the fish loved to listen. One of the most beloved of saints, his images and statues are found everywhere. Proclaimed a Doctor of the Church on January 16, 1946.
Born: 1195 at Lisbon, Portugal
Died: June 13, 1231
Canonized: 1232
Name Meaning: Inestimable
Also known as: Evangelical Doctor
Readings:
The saints are like the stars. In his providence Christ conceals them in a hidden place that they may not shine before others when they might wish to do so. Yet they are always ready to exchange the quiet of contemplation for the works of mercy as soon as they perceive in their heart the invitation of Christ.
—Saint Anthony of Padua
Actions speak louder than words; let your words teach and your actions speak. We are full of words but empty of actions, and therefore are cursed by the Lord, since he himself cursed the fig tree when he found no fruit but only leaves. It is useless for a man to flaunt his knowledge of the law if he undermines its teaching by his actions.

But the apostles "spoke as the Spirit gave them the gift of speech." Happy the man whose words issue from the Holy Spirit and not from himself!

We should speak, then, as the Holy Spirit gives us the gift of speech. Our humble and sincere request to the Spirit for ourselves should be that we may bring the day of Pentecost to fulfillment, insofar as he infuses us with his grace, by using our bodily senses in a perfect manner by keeping the commandments. Likewise we shall request that we may be filled with a keen sense of sorrow and with fiery tongues for confessing the faith so our deserved reward may be to stand in the blazing splendor of the saints and to look upon the triune God.
—Excerpts from a sermon by Saint Anthony of Padua