Collection:

St. Benedict the Black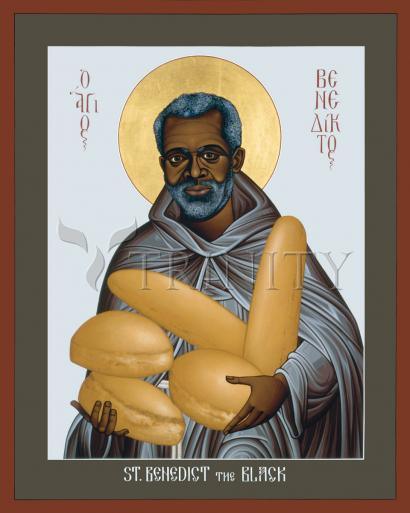 Regular price

From $99.95 USD

Regular price

$111.06 USD

Sale price

From $99.95 USD

Unit price

per

Regular price

From $34.95 USD

Regular price

$38.83 USD

Sale price

From $34.95 USD

Unit price

per

Regular price

From $19.95 USD

Regular price

$22.17 USD

Sale price

From $19.95 USD

Unit price

per

Regular price

From $300.00 USD

Regular price

$333.33 USD

Sale price

From $300.00 USD

Unit price

per

Regular price

From $149.95 USD

Regular price

$166.61 USD

Sale price

From $149.95 USD

Unit price

per

Regular price

From $149.95 USD

Regular price

$166.61 USD

Sale price

From $149.95 USD

Unit price

per

Regular price

From $149.95 USD

Regular price

$166.61 USD

Sale price

From $149.95 USD

Unit price

per
ARTIST: Br. Robert Lentz, OFM
ARTWORK NARRATIVE:
Benedict's parents were brought from Africa as slaves to Sicily. He was born a slave but was set free in his youth. His temperament was refined and cheerful, despite the racial slurs he suffered from his neighbors. He eventually gave all his possessions to the poor and became a hermit near Palermo, following the rule of St. Francis.

When Benedict was forty years old, Pius IV decreed that all such hermits should become members of the Franciscan Order. Benedict entered a friary in Palermo as a lay brother. The friars there appointed him as their superior because of his outstanding virtue, even though he was not a priest. As superior he introduced a stricter observance of the Franciscan Rule and was venerated by all his brethren. He asked to be allowed to return to the kitchen when his term as superior ended. People began coming to see him from all over Sicily for spiritual direction. He became famous for his care for the sick and the hungry.

He died after a severe illness, at the hour he had foretold. Years after his death, when his body was exhumed it was found incorrupt. His veneration spread throughout Italy, to Spain and Portugal, and even to Latin America.

His feast day is April 4.
Read More
His parents, Christopher and Diana, were slaves who had been taken from Africa to Sicily. He was granted his freedom at age 18, but remained as an employee of his former master. Scorned and mocked by others as poor as himself, due to his origin and skin, he retained a natural cheerfulness.

He met with, and became enamored of a group of Franciscan hermits near Palermo. Benedict sold and gave away what little he had, and joined this group. He was a novice master and reluctant superior of the friars in Palermo. When his term ended, he happily returned to the friary kitchen. Benedict never referred to possessions as "mine" but always "ours." He had special gifts for prayer and for the guidance of souls. His humility and cheerfulness set an example that helped reform his order. On his death, King Philip III of Spain paid for a special tomb for the simple friar.

Benedict was not a Moor, but the Italian "il Moro" for "the Black" has been misinterpreted as referring to a Moorish heritage.
Born: 1526 at Messina, Italy on the estate of Chevalier de Lanza a San Fratello
Died: 1589 of natural causes; body reported incorrupt when exhumed several years later
Beatified: 1743
Canonized: 1807 by Pope Pius VIII
Also known as: Benedict the Moor; il Moro; Benedict the African