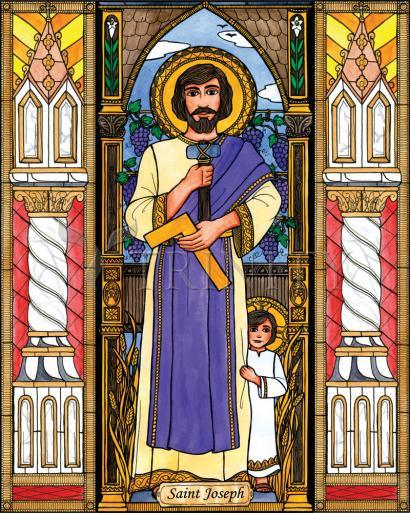 Regular price

From $99.95 USD

Regular price

$111.06 USD

Sale price

From $99.95 USD

Unit price

per

Regular price

From $34.95 USD

Regular price

$38.83 USD

Sale price

From $34.95 USD

Unit price

per

Regular price

From $19.95 USD

Regular price

$22.17 USD

Sale price

From $19.95 USD

Unit price

per

Regular price

From $300.00 USD

Regular price

$333.33 USD

Sale price

From $300.00 USD

Unit price

per

Regular price

From $149.95 USD

Regular price

$166.61 USD

Sale price

From $149.95 USD

Unit price

per

Regular price

From $149.95 USD

Regular price

$166.61 USD

Sale price

From $149.95 USD

Unit price

per

Regular price

From $109.95 USD

Regular price

$122.17 USD

Sale price

From $109.95 USD

Unit price

per
ARTIST: Brenda Nippert
ARTWORK NARRATIVE:
We know very little about Joseph, we do not who his parents were, or even how old he was when he was betrothed to Mary, and he has no recorded words in the Bible. All we really know is that he was older than Mary and a carpenter from Nazareth. The Archangel Gabriel came to Joseph, and assured him that the baby growing in Mary was the Son of God, a most precious gift to the world and He needed to be protected, because there were people who would try and hurt Jesus.

Joseph must have been a man of action, fully understanding his responsibility and insuring the safety of Mary and the unborn Jesus. The Bible tells of the arduous trip to Bethlehem, with Joseph trying his best to be a good citizen while providing for the very pregnant Mary. He may have been the first person to hold the baby Jesus, cradling him in his strong arms, keeping him warm from the cold night. Next, we hear of the flight to Egypt, again he protects Mary and the infant Jesus from Herod and his evil plans. Then we hear nothing except for the finding in the Temple, but there must have been more. Saint Joseph's words may not have been written down; however, actions speak louder than words. He did what he was asked, and we can see that he did it very well. We are all called to protect Jesus, cradle Him in our hearts, and share with the whole world this precious gift God has given us, even while others try to destroy Him.

His feast day is March 19.
Read More
Saint Joseph, I, your unworthy child, greet you. You are the faithful protector and intercessor of all who love and venerate you. You know that I have special confidence in you and that, after Jesus and Mary, I place all my hope of salvation in you, for you are especially powerful with God and will never abandon your faithful servants. Therefore, I humbly invoke you and commend myself, with all who are dear to me and all that belong to me, to your intercession. I beg of you, by your love for Jesus and Mary, not to abandon me during life and to assist me at the hour of my death.

Glorious Saint Joseph, spouse of the Immaculate Virgin, obtain for me a pure, humble, charitable mind, and perfect resignation to the divine Will. Be my guide, my father, and my model through life that I may merit to die as you did in the arms of Jesus and Mary.

Loving Saint Joseph, faithful follower of Jesus Christ, I raise my heart to you to implore your powerful intercession in obtaining from the Divine Heart of Jesus all the graces necessary for my spiritual and temporal welfare, particularly the grace of a happy death, and the special grace I now implore:

(Mention your request).

Guardian of the Word Incarnate, I feel confident that your prayers in my behalf will be graciously heard before the throne of God. Amen.

MEMORARE

Remember, most pure spouse of Mary, ever Virgin, my loving protector, Saint Joseph, that no one ever had recourse to your protection or asked for your aid without obtaining relief. Confiding, therefore, in your goodness, I come before you and humbly implore you. Despise not my petitions, foster-father of the Redeemer, but graciously receive them. Amen.