Collection:

St. Mary Magdalene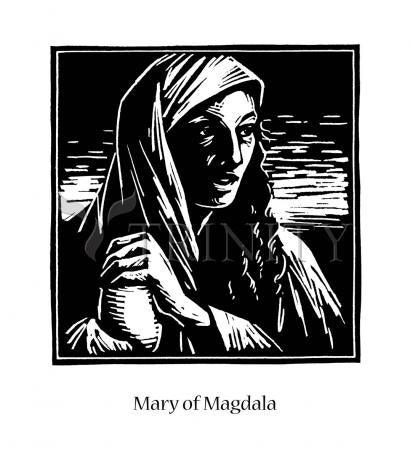 Regular price

From $99.95 USD

Regular price

$111.06 USD

Sale price

From $99.95 USD

Unit price

per

Regular price

From $34.95 USD

Regular price

$38.83 USD

Sale price

From $34.95 USD

Unit price

per

Regular price

From $19.95 USD

Regular price

$22.17 USD

Sale price

From $19.95 USD

Unit price

per

Regular price

From $300.00 USD

Regular price

$333.33 USD

Sale price

From $300.00 USD

Unit price

per

Regular price

From $149.95 USD

Regular price

$166.61 USD

Sale price

From $149.95 USD

Unit price

per

Regular price

From $149.95 USD

Regular price

$166.61 USD

Sale price

From $149.95 USD

Unit price

per

Regular price

From $149.95 USD

Regular price

$166.61 USD

Sale price

From $149.95 USD

Unit price

per
ARTIST: Julie Lonneman
ARTWORK NARRATIVE:
In the Gospel of Luke, the story is told of how Jesus freed Mary of Magdala from seven demons. From that moment, she traveled with Jesus and supported his mission from her own financial resources. In all three synoptic gospels, Mary leads the group of women disciples who witness Jesus' death, burial, and resurrection. The faithfulness and strength of the women stands in sharp contrast to Jesus' abandonment by the male disciples. In the Gospel of John, Mary is the first to discover the empty tomb. The risen Christ sends her to announce his resurrection to the other disciples, thus prompting the early church Fathers to name her "the Apostle to the Apostles."

First Century.

Her feast day is July 22.
Read More
Before we outline Mary's life and character, we deem it necessary to disassociate ourselves from those who connect her with the unnamed woman "which was a sinner." Luke, who knew her, wrote about this woman (Luke 7:37). The Jewish Talmud affirms that Magdala had an unsavory reputation, and because of the harlotry practiced there was destroyed. Doubtless it was from this tradition, and from the fact that Luke's first reference to her follows the story of the sinful woman, that the idea developed that Mary was a prostitute, but there is not an iota of genuine evidence to suggest such a bad reputation. Those theologians who describe her as a profligate do her an injustice, just as calling institutions for the care of fallen women "Magdalen Homes" does. One writer defines Magdalen as "the inmate of a female penitentiary," but the Bible depicts Mary as a pure, though deeply afflicted woman before she met Jesus. To suggest that she was dissolute because she was possessed by seven devils, is to affirm that every insane person is depraved. There is no word whatever in the writings of the Christian Fathers, whose authority stands next to the apostles, as to Mary having a foul reputation.
The Roman Catholic Church was guilty of fastening this slander upon Mary Magdalene when at Naples, in 1324, it established its first "Magdalen House" for the rescue and maintenance of fallen women. Great masters, taken up with the idea that Mary was formerly a courtesan, have provided art galleries with paintings of her as a voluptuous female. The name of the woman taken in adultery was graciously withheld, but with every reference to "The Magdalen" her name is given, and after her liberation from demonic influence appears as one of the most faithful and beautiful characters of the Bible. The wide acceptance of the tradition that she was a reformed prostitute is utterly baseless. Mary was only a sinner in the sense that we all are, having been born in sin and shapen in iniquity. "All have sinned and come short of the glory of God." Having sought to relieve Mary's name of the foul stigma attached to it, let us now outline her career.
She is mentioned fourteen times in the gospels, and from references to her we can see clearly what she did and how she did it. A striking feature in eight of the fourteen passages is that Mary is named in connection with other women, but she always heads the list, implying that she occupied the place at the front in service rendered by godly females. In the five times where she is mentioned alone, the connection is with the death and Resurrection of Christ (Mark 16:9; John 20:1, 11, 16, 18). In one instance her name comes after that of the mother and the aunt of Jesus. She stood close by the cross with these women, but because of their relation to Jesus it would not have been fitting to put her name before theirs (John 19:25). No woman, however, superseded Mary in her utter devotion to the Master.
In Demonic Bondage
Although Mary was a woman of high standing and comfortable circumstances, she suffered from the malady of periodic insanity. For "the seven devils" we should read seven demons. There is only one devil—and one is more than enough—but there are legions of demons, or roaming fallen angels, who possessed men and women—and still do! Seven is a mystic number suggesting "completeness," implying that when the evil spirits dominated Mary the suffering was extremely severe. Afflicted with nervousness, she may have been the victim of violent epilepsy, and when Jesus saw her with her peace of mind and control of will destroyed she must have been a revolting object to look at with her disheveled hair, glaring eyes and sunken cheeks. Her demonic possession did not affect her morals, only her mind. Badness of character did not ensue, only the derangement of her mental faculties. Sometimes "love—misplaced and guilty love—has destroyed many women, first leading to insanity, and then to suicide.... Sometimes, too, women become victims of insanity by inheritance." What weakness Mary may have had, making it easy for demons to enter her, we are not told. This we do know, they met their Master in Him who came to destroy the works of the devil.
A Liberated Soul
Luke links Mary with Joanna and Susanna and "many others" as those healed of evil spirits and infirmities by Jesus. As Mary is referred to as having "seven demons" her condition must have been worse than the rest. But the moment Jesus' compassionate eyes saw the wild-eyed and cringing woman of Magdala, He saw in her the ministering angel who would be a blessing to His own heart and to others. In His authoritative voice He commanded the tormenting demons to come out—and stay out—of her. "Back! back! to your native hell, ye foul spirits of the pit," and the miracle happened. Her deranged and nerve-racked mind became as tranquil as the troubled lake Jesus calmed. Sanity returned, the rosy tint was restored to her cheeks, and she was made whole. Now, "clothed and in her right mind," she was ready to become one of the most devoted woman disciples of Him to whom she owed so much. That she was deeply grateful for physical and mental healing is shown by what she endeavored to do for her Deliverer and His cause. Saved from the terrible power of hell, she gave of her best to Him who had fully emancipated her from demonic possession. When Christ saved her, He liberated the highest virtues of sacrifice, fortitude and courage.
In Journeyings Oft
Delivered, Mary became a disciple. Freed from satanic bondage she became harnessed to the chariot of the Lord, and her personal ministrations, along with those of other women who had been healed, greatly aided Jesus in His missionary activities as He went from place to place preaching and teaching His message. Grateful, these women became generous, ministering unto Him of their substance. Mary left her home in Magdala to follow Jesus. Constantly on the move as Jesus and His disciples were, there were many details in connection with their personal comfort and well-being requiring attention to which these women could see. Quietly and effectively Mary would do what she knew needed to be done. Further, money was necessary for the Master's campaign work. We never read of Him or His disciples asking for money, yet funds were necessary. Much of it came from Mary and other women like her who had been so richly blessed of the Lord. Alas, not all who have benefited are grateful! Christ once healed ten lepers, but only one came back to thank Him for His grace and power. Emancipated, Mary helped Jesus to evangelize as she willing gave of her substance to help meet His needs. How much her personal presence and service must have meant to Jesus.
At the Cross
Mary went with her Lord into the shadows, and is thus represented as being among those who followed Jesus on His last sad journey from Galilee to Jerusalem. And as they followed, they still "ministered unto Him." Mary was present with the other holy women at the mock trial of Jesus. No longer is He on the road with crowds gathering and hanging on His words. Fearless in His declaration and denunciations, He is arrested and tried for His life. Some of His intimate friends had deserted Him, but Mary and her band did not forsake Him. The poet reminds us—
Not she with traitorous kiss her Master stung,
Not she denied Him with unfaithful tongue;
She, when Apostles fled, could dangers brave,
Last at the Cross, and earliest at the grave.
Mary was present in Pilate's Hall and saw and heard the religious leaders clamoring for the blood of Him who was so precious to her heart. She listened as Pontius Pilate pronounced His death sentence of crucifixion although he had found no fault in Him. She witnessed and wept as Jesus left the hall to be spat upon and ill-treated by the crowd thirsting for His blood. Then she saw Him led out to Calvary's fatal mount to be nailed to a tree.
Mary was one of the sorrowing group of holy women who stood as near as they could to comfort Jesus by their presence in the closing agonies of the crucifixion (Luke 23:49). Mary listened with a broken heart to His bitter cries and watched through those dread hours until at last the Roman soldier thrust his spear into the Saviour's side and declared Him dead. In the renowned picture gallery in the Louvre, there is a painting of desolation, despair and love. The artist has depicted the night of the crucifixion. "The world is wrapped in shadow; the stars are dead; and yet in the darkness is seen a kneeling form. It is Mary Magdalene with loving lips and hands pressing against the bleeding feet of Christ." Yes, she was there when they crucified her Lord.
No sooner had Jesus dismissed His spirit than the question arose among the Marys at the cross, "How could they secure that blood-stained body, and prepare it for burial?" Joseph of Arimathaea and Nicodemus, to the relief of the sorrowful mourners, had come for that very purpose. The artist Rubens, in his masterpiece, The Descent of the Cross represents Mary Magdalene, and Mary the wife of Cleophas, assisting Joseph and Nicodemus in receiving the battered body from the tree, preparing it for burial, then placing the precious remains in the new tomb in the garden. Mary Magdalene remained "sitting over against the sepulchre" and "beholding" until Joseph had laid the Lord's body away (Matthew 27:61; Mark 15:47; Luke 23:55).
In the Garden
Last at the cross, where Jesus died as the Lamb of God, Mary Magdalene was also the first at the garden tomb to witness the most important event in world history and the pivotal truth of Christianity, namely the Resurrection of Jesus Christ. What a great honor God conferred upon the faithful Mary Magdalene in permitting her to be the first witness of that Resurrection! She was at the tomb early on that first Easter morning, and as the light of earliest day filtered across Jerusalem, she peered into the cave. Seeing it was empty, she wept. Then John, the inspired genius who wrote in unusually terse Greek, describes what happened in a way unparalleled in narrative literature. Finding the grave empty Mary rushed to Peter and John, and most excitedly said, "They have taken away the Lord out of the sepulchre and we know not where they have laid him." These disciples returned with Mary Magdalene to the tomb and found that what she had told them was true, then departed "to their own homes." But not Mary! She stood at the door of the sepulcher weeping, and as she wept two angels appeared, one at the head and the other at the feet, where the body of Jesus had lain. Seeing her distressed and afraid, they tenderly asked, "Woman, why weepest thou?" Tremblingly she replied, "Because they have taken away my Lord, and I know not where they have laid him."
What pathos is in the word "my Lord"—my very own Lord, the One who did so much for me, and whom I loved to serve. Turning away she saw a figure, and thinking He was the gardener answered in reply to the question: "Woman, why weepest thou? Whom seekest thou?"—in words most courageous &--;"Sir, if thou have borne him hence, tell me where thou hast laid him, and I will take him away."
Mary, so full of her Lord, felt that all others must know Him whose body was missing from the tomb. "She never stopped to think of her own weakness as a woman: love nerves had to take it for granted she is able for the blessed task of taking the sacred body away." Then one word from the Voice she now recognized uttered her name, "Mary"! That old familiar tone gripped her heart, and instantly she cried "Rabboni!" which was her strongest expression of reverent love. Casting herself before the risen Lord, she would have clasped His feet, but He said, "Touch me not!" Thrilled at having Jesus alive again, Mary's love was of a nature which leaned upon the human presence of Jesus. Along with the other disciples, Mary, too, had to learn how "to rise to a higher and at the same time a nearer, but spiritual communion with Him.... Her earthly affection needed to be elevated into a heavenly love" (John 20:25-29).
Then Jesus commissioned Mary to become the first herald of His Resurrection. She had to go and announce the greatest good news ever proclaimed, "Go to my brethren, and say unto them, I ascend unto my Father, and your Father; and to my God and your God." We can imagine with what speed Mary ran back through the gates of Jerusalem to tell the disciples that their Lord who had died was alive forevermore. Mary had stayed near to Christ in His journeyings, and had cared for many of His human needs until His corpse was laid in the tomb. He now rewarded her with a closer knowledge of things divine, and she was given an honor that cannot be taken away from her, namely, that of being the first among men or women to see the Risen Lord, and to receive the first message from His lips (John 20:18). Although this is the last glimpse we have of Mary Magdalene, we have no hesitation in assuming that she was present with the women (Acts 1:14) who assembled with the apostles in the upper chamber for prayer and supplication, and to await the coming of the promised Spirit. Upon that historic day, Pentecost, when a bequeathed Guide and Comforter came, Mary must have been caught up by His power and made an effective witness of her risen and now ascended Lord.