Collection:

St. Teresa of Avila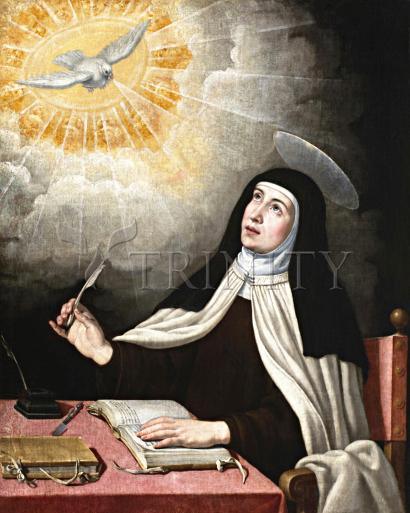 Regular price

From $99.95 USD

Regular price

$111.06 USD

Sale price

From $99.95 USD

Unit price

per

Regular price

From $34.95 USD

Regular price

$38.83 USD

Sale price

From $34.95 USD

Unit price

per

Regular price

From $19.95 USD

Regular price

$22.17 USD

Sale price

From $19.95 USD

Unit price

per

Regular price

From $300.00 USD

Regular price

$333.33 USD

Sale price

From $300.00 USD

Unit price

per

Regular price

From $149.95 USD

Regular price

$166.61 USD

Sale price

From $149.95 USD

Unit price

per

Regular price

From $149.95 USD

Regular price

$166.61 USD

Sale price

From $149.95 USD

Unit price

per

Regular price

From $149.95 USD

Regular price

$166.61 USD

Sale price

From $149.95 USD

Unit price

per
ARTIST: Museum Religious Art Classics
ARTWORK NARRATIVE:
Artist: Jusepe de Ribera – c. 17th century
The saint's prolific writings explored the nature of these visions in detail, making it easier for artists to accurately depict them. Teresa completed her autobiography in 1565, and this became the basis for most of what is known about her mystical experiences. She wrote vividly of her visions, sometimes comparing them to paintings. Some of her descriptions call to mind well-known works such as Piero della Francesca's Virgin of Mercy and the Ghent Altarpiece. These pictorial descriptions provided artists with material for their own pieces.
Indeed, her writings provide the basis for a common element seen in depictions of Saint Teresa— a dove. Generally, the dove serves as a symbol of the Holy Spirit. In works focusing on Teresa, the dove alludes to a mystical vision that she had on Pentecost. In her autobiography, Teresa writes that, during a period of intense prayer and meditation, she saw a large dove with irradiant wings over her head. This luminous symbol found its way onto many canvases.
Her feast day is October 15.