Collection:

Thomas Merton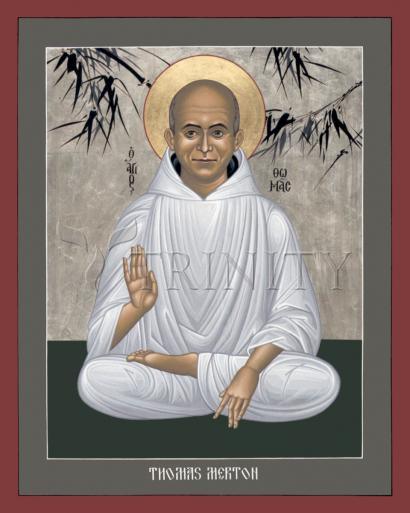 Regular price

From $99.95 USD

Regular price

$111.06 USD

Sale price

From $99.95 USD

Unit price

per

Regular price

From $34.95 USD

Regular price

$38.83 USD

Sale price

From $34.95 USD

Unit price

per

Regular price

From $19.95 USD

Regular price

$22.17 USD

Sale price

From $19.95 USD

Unit price

per

Regular price

From $300.00 USD

Regular price

$333.33 USD

Sale price

From $300.00 USD

Unit price

per

Regular price

From $109.95 USD

Regular price

$122.17 USD

Sale price

From $109.95 USD

Unit price

per

Regular price

From $109.95 USD

Regular price

$122.17 USD

Sale price

From $109.95 USD

Unit price

per

Regular price

From $109.95 USD

Regular price

$122.17 USD

Sale price

From $109.95 USD

Unit price

per

Regular price

From $84.95 USD

Regular price

$94.39 USD

Sale price

From $84.95 USD

Unit price

per

Regular price

From $94.95 USD

Regular price

$105.50 USD

Sale price

From $94.95 USD

Unit price

per
ARTIST: Br. Robert Lentz, OFM
ARTWORK NARRATIVE:
Thomas Merton wrote prophetically from his monastic seclusion for over 25 years. He spoke on subjects as varied as prayer, racial relations, non-violence, and art. Loving truth, he exposed falsehood wherever he found it. He pointed a way for Western Christians in this time of profound cultural change.

While never ceasing to be a Christian monk, he was entirely at home in Asian experience. He practiced Zen because he felt it enabled Western people to go beyond their tendency to analyze God, to reduce God to an "object." Experience, not analysis, is the path of God. "This obsession with doctrinal formulas, juridical order and ritual exactitude," he wrote, "has often made people forget that the heart of Catholicism, too, is a living experience of unity in Christ which far transcends all conceptual formulations." As Byzantine Christians would say, theology must be done on one's knees.

Both Buddhist and Christian symbolism are combined in this icon, to express the way Merton reconciled the two spiritual traditions in his own life. His raised right hand represents "fear not", and his left calls upon the earth to bear witness that he has overcome temptation. The Greek inscription by his head reads "Holy Thomas." He wears the Cistercian cowl.
Read More
Thomas Merton (1915—1968), a Trappist monk, was one of the most well-known Catholic writers of the 20th century. He was the author of more than 60 books, including the story of his conversion, Seven Storey Mountain, a modern spiritual classic. Yet Merton is a controversial figure. In the last year of his life, he wrote in his journal while traveling through Asia:
Last night I dreamed I was, temporarily, back at Gethsemani. I was dressed in a Buddhist monk's habit, but with more black and red and gold, a "Zen habit," in color more Tibetan than Zen . . . I met some women in the corridor, visitors and students of Asian religion, to whom I was explaining I was a kind of Zen monk and Gelugpa together, when I woke up. (Asian Journal, 107)
A Trappist dreams of being a Buddhist monk? My grandparents recall an American impersonator named Lon Chaney (1883—1930) who was such a master at changing his screen identity that he came to be called "the man with a thousand faces." Fr. Thomas Merton was a man of a thousand lives. He was at one time a womanizer, a member of the Young Communist League, an English student at Columbia, a peace activist, an English teacher at St. Bonaventure University, and a social work volunteer. He was an orphan, the father of a child, a Catholic convert, a Trappist monk, a priest, a poet, a writer, and some describe him as a Zen Buddhist. It is difficult to distill the essence of Thomas Merton: He and his works are complex.
Christian Mantras?
I'm going to be a bit critical of Merton's interest in and writings on Asian philosophy and religion, not because I don't admire his brilliance, but because his commitment to orthodox Catholicism appears suspiciously attenuated by the end of his life. In the 1969 book Recollections of Thomas Merton's Last Days in the West, Benedictine monk Br. David Steindl-Rast wrote that Thomas said that he wanted "to become as good a Buddhist as I can." When he flew out of San Francisco for Asia on October 15, 1968, he left with the expectation of religious discovery, as if his monastic life at the Abbey of Gethsemani was a spiritual precursor to the insights he would gain in the East. He wrote in his journal:
Joy. We left the ground—I with Christian mantras and a great sense of destiny, of being at last on my true way after years of waiting and wondering and fooling around. . . . May I not come back without having settled the great affair. And found also the great compassion, mahakaruna . . . I am going home, to the home where I have never been in this body. (Asian Journal, 4)
He writes as if his Christianity and his Buddhism had already become enmeshed into a new hybrid religion, with "Christian mantras and a great sense of destiny," and he expresses his desire never to return until he has found mahakaruna, the Buddhist notion of "great compassion." As a Christian, I admire Buddhist mahakaruna, but as a Christian I also know that one need not look beyond Christianity to find it. I wonder—and we shall never know in this life the answer—what "home" Merton was headed for that day in October.
Divine Comedy
Most of what we know of Thomas Merton's life is taken from his wonderfully written, almost Augustinian, autobiography, Seven Storey Mountain, published in 1948. The work's title alludes to Mount Purgatory in Dante Alighieri's (1265—1321) Divine Comedy, thus comparing his autobiography to an account of a personal catharsis. Like Hilaire Belloc (1870—1953), Merton was a French-born writer who converted to Catholicism after a long and complicated intellectual journey. He was born in Prades, France, to parents who were both painters; his father, Owen, was from New Zealand and his mother, Ruth, was an American. In 1917, the family moved to Flushing, New York, where his brother, John Paul, was born. His father died when he was six, his mother died ten years later, and his brother died in 1943 while flying over the English Channel to the war.
In 1926, Merton returned to France where he enrolled in a boarding school, and in 1928 he moved to England. He traveled to Rome in 1933 and visited several of the city's beautiful churches: the Lateran Baptistery, Basilica di San Clemente, Santa Costanza, Santa Pudenziana, and Tre Fontane, a Trappist monastery. The beauty of the churches and the richness of Christian history there made a large impression on young Thomas. He writes of visiting Sts. Cosmos and Damian, across the Forum, where he meditated on "a great mosaic in the apse, of Christ coming in judgment in dark blue sky, with the suggestion of fire in the small clouds beneath his feet" (Seven Storey Mountain, 108). He was moved, or rather displaced from his previous motto: "I believe in nothing." While in the "dark, austere old church" at Tre Fontane, Merton was too scared to walk over to the monastery, imagining the monks "were too busy sitting in their graves beating themselves with disciplines," but after pacing around the outside he left, thinking to himself, "I should like to become a Trappist monk" (Seven Storey Mountain, 114).
Bondage to Sin
After his time in Rome, Merton entered Clare College at Cambridge. He describes his life there as one of indulgence, drinking excessively, frequenting local pubs, and womanizing. Indeed, he fathered a child with a girl while he was at Cambridge, a detail of his life that Trappist censors removed from the original draft of his Seven Storey Mountain. Merton writes: "I labored to enslave myself in the bonds of my own intolerable disgust" (Seven Storey Mountain, 121). By 1935 he was back in America and enrolled at Columbia University, where he studied English. While there he began reading the works of such Catholic, Thomistic writers as Étienne Gilson (1884—1978) and Jacques Maritain (1882—1973). He met the Hindu monk Mahanambrata Brahmachari, who told him to read the Confessions of St. Augustine (354—430) and Thomas à  Kempis' (ca. 1380—1471) Imitation of Christ. He immersed himself in Catholic thought. On May 25, 1939, Thomas Merton was finally confirmed into the Catholic Church, and he considered a vocation as a Franciscan friar.
After revealing the details of his debauched days at Clare College to the Franciscans, however, he was no longer welcomed there, and after a brief time teaching English at St. Bonaventure University, Merton was accepted into the Abbey of Gethsemani in Kentucky on December 13, 1941. He was, as he had once so casually remarked he would be, a Trappist monk. Once ensconced in his new life as a monk, his poetic and writing talents were discovered by a wide and appreciative readership. But along with his meteoric rise to fame, Merton's relationships with his superiors remained turbulent; indeed one of his most antagonistic relationships was with the staunchly traditional abbot, Dom James Fox. In a recently discovered letter written to Dom Fox on Passion Sunday, 1954, Merton expressed his inner tensions with monastic life:
I am beginning to face some facts about myself. Yes, need for more of a life of prayer, greater fidelity, greater sincerity and simplicity in doing what God wants of me. Easy to say all that. It depends on getting rid of something very deep and very fundamental in myself. . . Continual, uninterrupted resentment. I resent and even hate Gethsemani. I fight against the place constantly. I do not openly allow myself—not consciously—to sin in this regard. But I am in the habit of letting my resentment find every possible outlet and it is such a habit. . . . I am not kidding about how deep it is. It is DEEP. (Gethsemani Abbey archives)
Merton became increasingly attracted to Eastern religion as his attachments to his own monastery grew more tenuous.
The Call of the Buddha
After meeting the Japanese Buddhist scholar Daisetz T. Suzuki (1870—1966), Merton began a zealous interest in Zen, keeping an active correspondence with Suzuki, eventually producing a collection of essays called Zen and the Birds of Appetite (1968). In this work he compares Zen with Christianity, and in later works he began to highlight more and more what he believed to be commonalities between the two religions. His works display a certain inner antagonism—Merton was used to that—between viewing his growing interest in the East as a means of defending his own Western Christian tradition, and a need to supplement, if not fulfill, Christianity with Buddhism.
His attraction to Buddhism was growing at a time when the Church was beginning to admit the commendable elements in other religious traditions. Pope Paul VI's (r. 1963—1978) decree Nostra Aetate declares that:
The Church therefore has this exhortation for her sons: Prudently and lovingly, through dialogue and collaboration with the followers of other religions, and in witness of Christian faith and life, acknowledge, preserve, and promote the spiritual and moral goods found among these men, as well as the values in their society and cultures.
And in his Mystics and Zen Masters (1967), Merton celebrates this message, stating that, "The Christian scholar is obligated by his sacred vocation to understand and even preserve the heritage of all the great traditions insofar as they contain truths that cannot be neglected and offer precious insights into Christianity itself". He continued to discuss the commonalities between Confucianism and the traditions of his own Benedictine order.