Collection:

Ven. Catherine McAuley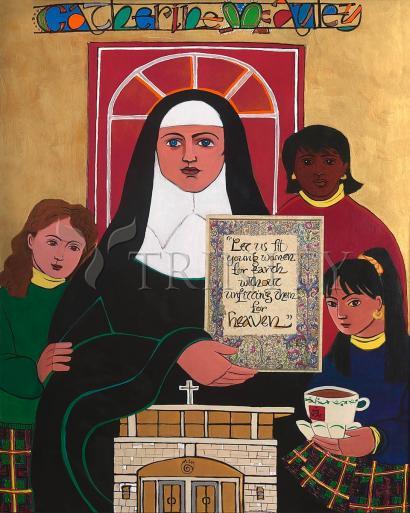 Regular price

From $99.95 USD

Regular price

$111.06 USD

Sale price

From $99.95 USD

Unit price

per

Regular price

From $34.95 USD

Regular price

$38.83 USD

Sale price

From $34.95 USD

Unit price

per

Regular price

From $19.95 USD

Regular price

$22.17 USD

Sale price

From $19.95 USD

Unit price

per

Regular price

From $300.00 USD

Regular price

$333.33 USD

Sale price

From $300.00 USD

Unit price

per

Regular price

From $149.95 USD

Regular price

$166.61 USD

Sale price

From $149.95 USD

Unit price

per

Regular price

From $149.95 USD

Regular price

$166.61 USD

Sale price

From $149.95 USD

Unit price

per

Regular price

From $149.95 USD

Regular price

$166.61 USD

Sale price

From $149.95 USD

Unit price

per
ARTIST: Br. Mickey McGrath, OSFS
ARTWORK NARRATIVE:
The simplest and most practical lesson I know is to resolve to be good today, but better tomorrow.
—Venerable Catherine McAuley

Her feast day is November 11.
Read More
Catherine McAuley was born near Dublin, Ireland on September 29, 1778. After the death of both her parents, Catherine went to live with relatives who embodied the strong anti-Catholic atmosphere of the times. This was a difficult trial for Catherine, but through it she developed a spirituality based on God's Mercy. She found "peace in the Cross, joy in suffering, prayer in action and action in prayer." Catherine sought to provide solace to sick and needy families, to train young girls for employment and to instruct poor children.
When Catherine was twenty-five, a retired Quaker couple invited her to live with them. Catherine proved to be a loving companion and holy example to them. On their death beds, they converted to Catholicism, and bequeathed their estate to her. With this inheritance, Catherine built a house on Baggot Street in Dublin as a home for poor girls. This first Home of Mercy opened on September 24, 1827, the Feast of Our Lady of Mercy. Her work with the poor and destitute led Catherine to desire a life of total consecration to Our Lord. Encouraged by the Archbishop, Catherine and two other women professed vows on December 12, 1831, and began the Religious Institute of the Sisters of Mercy. Often seen walking the streets to serve the sick and the poor, the "walking nuns" inspired many women to dedicate themselves to Christ and to the service of the Church, causing the Institute to spread rapidly.
By the time of Mother Catherine's death in 1841, there were 100 Sisters of Mercy in ten foundations. In April of 1990, in completion of one stage of the process by which the Catholic Church defines sainthood, Pope John Paul II declared Catherine McAuley "Venerable".
The legacy of union and charity and tender mercy to Christ's poor left by Mother Catherine to her daughters was kept alive through the Constitutions she wrote, her letters, her poetry, and most of all her prayers. Mother Catherine was gifted with a profound love of God, expressed in a deep love for her Sisters, and a tremendous sense of humor able to help sustain others through difficult times. Her Suscipe expresses her surrender to the loving Mercy of God.