Collection:

Visitation and Birth of St. John the Baptist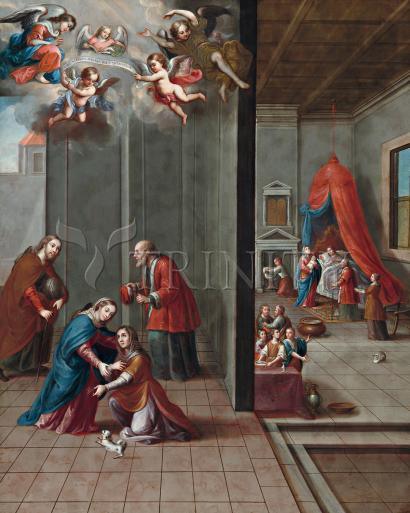 Regular price

From $99.95 USD

Regular price

$111.06 USD

Sale price

From $99.95 USD

Unit price

per

Regular price

From $34.95 USD

Regular price

$38.83 USD

Sale price

From $34.95 USD

Unit price

per

Regular price

From $19.95 USD

Regular price

$22.17 USD

Sale price

From $19.95 USD

Unit price

per

Regular price

From $300.00 USD

Regular price

$333.33 USD

Sale price

From $300.00 USD

Unit price

per

Regular price

From $149.95 USD

Regular price

$166.61 USD

Sale price

From $149.95 USD

Unit price

per

Regular price

From $149.95 USD

Regular price

$166.61 USD

Sale price

From $149.95 USD

Unit price

per

Regular price

From $149.95 USD

Regular price

$166.61 USD

Sale price

From $149.95 USD

Unit price

per
ARTIST: Museum Religious Art Classics
ARTWORK NARRATIVE:
Artist: Nicolás Enríquez – c. 1746
Visitation, the visit, described in the Gospel According to Luke (1:39–56), made by the Virgin Mary, pregnant with the infant Jesus, to her cousin Elizabeth. At the sound of Mary's greeting, the pregnant Elizabeth felt the infant St. John the Baptist leap in her womb, which, according to later doctrine, signified that he had become sanctified and cleansed of original sin. Mary then said the Magnificat.
Feast day is May 31.