Collection:

Children of Abraham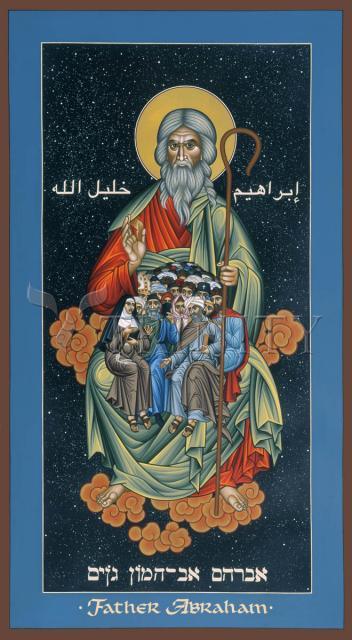 Regular price

From $99.95 USD

Regular price

$111.06 USD

Sale price

From $99.95 USD

Unit price

per

Regular price

From $39.95 USD

Regular price

$44.39 USD

Sale price

From $39.95 USD

Unit price

per

Regular price

From $19.95 USD

Regular price

$22.17 USD

Sale price

From $19.95 USD

Unit price

per

Regular price

From $300.00 USD

Regular price

$333.33 USD

Sale price

From $300.00 USD

Unit price

per

Regular price

From $129.95 USD

Regular price

$144.39 USD

Sale price

From $129.95 USD

Unit price

per

Regular price

From $129.95 USD

Regular price

$144.39 USD

Sale price

From $129.95 USD

Unit price

per

Regular price

From $129.95 USD

Regular price

$144.39 USD

Sale price

From $129.95 USD

Unit price

per
ARTIST: Br. Robert Lentz, OFM
ARTWORK NARRATIVE:
Abraham sits on golden clouds in Paradise, with the countless stars of the heavens behind him. In Chapter 22 of Genesis God promised him that his descendants would be as numerous as these stars. Jews, Christians, and Muslims all consider Abraham to be their father in faith, and a throng of these children crowd onto his lap.

The Arabic Inscription reads, "Abraham, the Friend of God," which is how Muslims often refer to him. The Hebrew inscription is taken from Genesis and reads "Abraham, the Father of many Nations."

For centuries children of Abraham have hated and killed one another. Today we must either learn how to engage in respectful dialogue or face global destruction. As the Prophet Muhammad once said, "A believer is a mirror to a believer." Besides sharing a common spiritual heritage, each Abrahamic religion has produced saints and mystics who truly do mirror one another. Let us look to these saints when religious extremists sow strife in our midst. Let us prove ourselves true sons and daughters of Abraham, rather than hypocrites like those St. John the Baptist once condemned.

His feast day is October 9.
Read More
The original form of the name, Abram, is apparently the Assyrian Abu-ramu. It is doubtful if the usual meaning attached to that word "lofty father", is correct. The meaning given to Abraham in Genesis 17:5 is popular word play, and the real meaning is unknown. The Assyriologist, Hommel suggests that in the Minnean dialect, the Hebrew letter Hê ("h") is written for long a. Perhaps here we may have the real derivation of the word, and Abraham may be only a dialectical form of Abram.
The story of Abraham is contained in the Book of Genesis, 11:26 to 25:18. We shall first give a brief outline of the Patriarch's life, as told in that portion of Genesis, then we shall in succession discuss the subject of Abraham from the viewpoints of the Old Testament, New Testament, profane history, and legend.
A brief outline of Abraham's life
Thare had three sons, Abram, Nachor, and Aran. Abram married Sarai. Thare took Abram and his wife, Sarai, and Lot, the son of Aran, who was dead, and leaving Ur of the Chaldees, came to Haran and dwelt there till he died. Then, at the call of God, Abram, with his wife, Sarai, and Lot, and the rest of his belongings, went into the Land of Chanaan, amongst other places to Sichem and Bethel, where he built altars to the Lord.
A famine breaking out in Chanaan, Abram journeyed southward to Egypt, and when he had entered the land, fearing that he would be killed on account of his wife, Sarai, he bade her say she was his sister. The report of Sarai's beauty was brought to the Pharao, and he took her into his harem, and honoured Abram on account of her. Later, however finding out that she was Abram's wife, he sent her away unharmed, and, upbraiding Abram for what he had done, he dismissed him from Egypt.
From Egypt Abram came with Lot towards Bethel, and there, finding that their herds and flocks had grown to be very large, he proposed that they should separate and go their own ways. So Lot chose the country about the Jordan, whilst Abram dwelt in Chanaan, and came and dwelt in the vale of Mambre in Hebron.
Now, on account of a revolt of the Kings of Sodom and Gomorrha and other kings from Chodorlahomor King of Elam, after they had served him twelve years, he in the fourteenth year made war upon them with his allies, Thadal king of nations, Amraphel King of Senaar, and Arioch King of Pontus. The King of Elam was victorious, and had already reached Dan with Lot a prisoner and laden with spoil, when he was overtaken by Abram. With 318 men the patriarch surprises, attacks, and defeats him, he retakes Lot and the spoil, and returns in triumph.
On his way home, he is met by Melchisedech, king of Salem who brings forth bread and wine, and blesses him And Abram gives him tithes of all he has; but for himself he reserves nothing. God promises Abram that his seed shall be as the stars of heaven, and he shall possess the land of Chanaan. But Abram does not see how this is to be, for he has already grown old. Then the promise is guaranteed by a sacrifice between God and Abram, and by a vision and a supernatural intervention in the night.
Sarai, who was far advanced in years and had given up the idea of bearing children, persuaded Abram to take to himself her hand-maid, Agar. He does so, and Agar being with child despises the barren Sarai. For this Sarai afflicts her so that she flies into the desert, but is persuaded to return by an angel who comforts her with promises of the greatness of the son she is about to bear. She returns and brings forth Ismael.
Thirteen years later God appears to Abram and promises him a son by Sarai, and that his posterity will be a great nation. As a sign, he changes Abram's name to Abraham, Sarai's to Sara, and ordains the rite of circumcision. One day later, as Abraham is sitting by his tent, in the vale of Mambre, Jehovah with two angels appears to him in human form. He shows them hospitality. Then again the promise of a son named Isaac is renewed to Abraham. The aged Sarah hears incredulously and laughs. Abraham is then told of the impending destruction of Sodom and Gomorrha for their sins but obtains from Jehovah the promise that he will not destroy them if he finds ten just men therein. Then follows a description of the destruction of the two cities and the escape of Lot. Next morning Abraham, looking from his tent towards Sodom, sees the smoke of destruction ascending to heaven.
After this, Abraham moves south to Gerara, and again fearing for his life says of his wife, "she is my sister". The king of Gerara, Abimelech, sends and takes her, but learning in a dream that she is Abraham's wife he restores her to him untouched, and rebukes him and gives him gifts.
In her old age Sarah bears a son, Isaac, to Abraham, and he is circumcised on the eighth day. Whilst he is still young, Sarah is jealous, seeing Ismael playing with the child Isaac, so she procures that Agar and her son shall be cast out. Then Agar would have allowed Ismael to perish in the wilderness, had not an angel encouraged her by telling her of the boy's future.
Abraham is next related to have had a dispute with Abimelech over a well at Bersabee, which ends in a covenant being made between them. It was after this that the great trial of the faith of Abraham takes place. God commands him to sacrifice his only son Isaac. When Abraham has his arm raised and is in the very act of striking, an angel from heaven stays his hand and makes the most wonderful promises to him of the greatness of his posterity because of his complete trust in God.
Sarah dies at the age of 127, and Abraham, having purchased from Ephron the Hethite the cave in Machpelah near Mambre, buries her there.
His own career is not yet quite ended for first of all he takes a wife for his son Isaac, Rebecca from the city of Nachor in Mesopotamia. Then he marries Cetura, old though he is, and has by her six children. Finally, leaving all his possessions to Isaac, he dies at age 170, and is buried by Isaac and Ismael in the cave of Machpelah.
Viewpoint of Old Testament
Abraham may be looked upon as the starting-point or source of Old Testament religion. So that from the days of Abraham men were wont to speak of God as the God of Abraham, whilst we do not find Abraham referring in the same way to anyone before him. So we have Abraham's servant speaking of "the God of my father Abraham" (Genesis 24:12). Jehovah, in an apparition to Isaac, speaks of himself as the God of Abraham (Genesis 26:24), and to Jacob he is "the God of my father Abraham" (Genesis 31:42). So, too, showing that the religion of Israel does not begin with Moses, God says to Moses: "I am the God of thy fathers, the God of Abraham" etc. (Ex. iii, 6). The same expression is used in the Psalms (xlvi, 10) and is common in the Old Testament. Abraham is thus selected as the first beginning or source of the religion of the children of Israel and the origin of its close connection with Jehovah, because of his faith, trust, and obedience to and in Jehovah and because of Jehovah's promises to him and to his seed. So, in Genesis, xv, 6, it is said: "Abram believed God, and it was reputed to him unto justice." This trust in God was shown by him when he left Haran and journeyed with his family into the unknown country of Chanaan. It was shown principally when he was willing to sacrifice his only son Isaac, in obedience to a command from God. It was on that occasion that God said: "Because thou hast not spared thy only begotten son for my sake I will bless thee" etc. (Genesis 22:16, 17). It is to this and other promises made so often by God to Israel that the writers of the Old Testament refer over and over again in confirmation of their privileges as the chosen people. These promises, which are recorded to have been made no less than eight times, are that God will give the land of Chanaan to Abraham and his seed (Genesis 12:7) that his seed shall increase and multiply as the stars of heaven; that he himself shall be blessed and that in him "all the kindred of the earth shall be blessed" (xii, 3). Accordingly the traditional view of the life of Abraham, as recorded in Genesis, is that it is history in the strict sense of the word. Thus Father von Hummelauer, S.J., in his commentary on Genesis in the "Cursus Scripturae Sacrae" (30), in answer to the question from what author the section on Abraham first proceeded, replies, from Abraham as the first source. Indeed he even says that it is all in one style, as a proof of its origin, and that the Passage, xxv, 5-11, concerning the goods, death, and burial of Abraham comes from Isaac. It must, however, be added that it is doubtful if Father von Hummelauer still adheres to these views, written before 1895, since he has much modified his position in the volume on Deuteronomy.
Quite a different view on the section of Genesis treating of Abraham, and indeed of the whole of Genesis, is taken by modern critical scholars. They almost unanimously hold that the narrative of the patriarch's life is composed practically in its entirety of three writings or writers called respectively the Jahvist, the Elohist, and the priestly writer, and denoted by the letters J, E, and P. J and E consisted of collections of stories relating to the patriarch, some of older, some of later, origin. Perhaps the stories of J show a greater antiquity than those of E. Still the two authors are very much alike, and it is not always easy to distinguish one from the other in the combined narrative of J and E. From what we can observe, neither the Jahvist nor the Elohist was a personal author. Both are rather schools, and represent the collections of many years. Both collections were closed before the time of the prophets; J some time in the ninth century B.C., and E early in the eighth century, the former probably in the South Kingdom, the latter in the North. Then towards the end of the kingdom, perhaps owing to the inconvenience of having two rival accounts of the stories of the patriarchs etc. going about, a redactor R.JE (?) combined the two collections in one, keeping as much as possible to the words of his sources, making as few changes as possible so as to fit them into one another, and perhaps mostly following J in the account of Abraham. Then in the fifth century a writer who evidently belonged to the sacerdotal caste wrote down again an account of primitive and patriarchal history from the priestly point of view. He attached great importance to clearness and exactness; his accounts of things are often cast into the shape of formulas (cf. Genesis 1); he is very particular about genealogies, also as to chronological notes. The vividness and colour of the older patriarchal narratives, J and E, are wanting in the later one, which in the main is as formal as a legal document, though at times it is not wanting in dignity and even grandeur, as is the case in the first chapter of Genesis. Finally, the moral to be drawn from the various events narrated is more clearly set forth in this third writing and, according to the critics the moral standpoint is that of the fifth century B.C. Lastly, after the time of Ezra, this last history, P was worked up into one with the already combined narrative J.E. by a second redactor R. JEP, the result being the present history of Abraham, and indeed the present book of Genesis; though in all probability insertions were made at even a later date.