Collection:

St. Raphael Archangel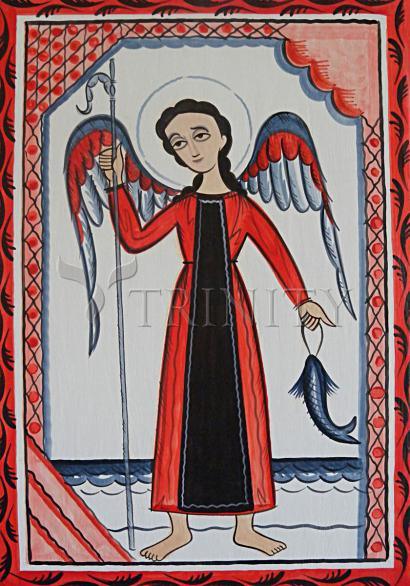 Regular price

From $99.95 USD

Regular price

$111.06 USD

Sale price

From $99.95 USD

Unit price

per

Regular price

From $34.95 USD

Regular price

$38.83 USD

Sale price

From $34.95 USD

Unit price

per

Regular price

From $19.95 USD

Regular price

$22.17 USD

Sale price

From $19.95 USD

Unit price

per

Regular price

From $300.00 USD

Regular price

$333.33 USD

Sale price

From $300.00 USD

Unit price

per

Regular price

From $169.95 USD

Regular price

$188.83 USD

Sale price

From $169.95 USD

Unit price

per

Regular price

From $169.95 USD

Regular price

$188.83 USD

Sale price

From $169.95 USD

Unit price

per

Regular price

From $169.95 USD

Regular price

$188.83 USD

Sale price

From $169.95 USD

Unit price

per
ARTIST: Br. Arturo Olivas, OFS
ARTWORK NARRATIVE:
Prayer for Healing

Glorious Archangel St. Raphael, great prince of the heavenly court, you are illustrious for your gifts of wisdom and grace. You are a guide of those who journey by land or sea or air, consoler of the afflicted, and refuge of sinners.

I beg you, assist me in all my needs and in all the sufferings of this life, as once you helped the young Tobias on his travels. Because you are the "medicine of God" I humbly pray you to heal the many infirmities of my soul and the ills that afflict my body. I especially ask of you the favor (here mention your special intention), and the great grace of purity to prepare me to be the temple of the Holy Spirit. Amen.

His feast day is October 24.
Read More
The name of this archangel (Raphael = "God has healed") does not appear in the Hebrew Scriptures, and in the Septuagint only in the Book of Tobias. Here he first appears disguised in human form as the traveling companion of the younger Tobias, calling himself "Azarias the son of the great Ananias." The story of the adventurous journey during which the protective influence of the angel is shown in many ways including the binding "in the desert of upper Egypt" of the demon who had previously slain seven husbands of Sara, daughter of Raguel, is picturesquely related in Tobit 5-11, to which the reader is referred. After the return and the healing of the blindness of the elder Tobias, Azarias makes himself known as "the angel Raphael, one of the seven, who stand before the Lord" (Tob., xii, 15. Cf. Apoc., viii, 2).
Of these seven "archangels" which appear in the angelology of post-Exilic Judaism, only three, Gabriel, Michael and Raphael, are mentioned in the canonical Scriptures. The others, according to the Book of Enoch (cf. xxi) are Uriel, Raguel, Sariel, and Jerahmeel, while from other apocryphal sources we get the variant names Izidkiel, Hanael, and Kepharel instead of the last three in the other list.
Regarding the functions attributed to Raphael we have little more than his declaration to Tobias (Tobit 12) that when the latter was occupied in his works of mercy and charity, he (Raphael) offered his prayer to the Lord, that he was sent by the Lord to heal him of his blindness and to deliver Sara, his son's wife, from the devil. The Jewish category of the archangels is recognized in the New Testament (I Thess., iv, 15; Jude, 9), but only Gabriel and Michael are mentioned by name. Many commentators, however, identify Raphael with the "angel of the Lord" mentioned in John 5. This conjecture is base both on the significance of the name and on the healing role attributed to Raphael in the Book of Tobias. The Church assigns the feast of St. Raphael to 24 October.
—Excerpts from The Catholic Encyclopedia, Volume XII, James F. Driscoll