Collection:

St. Raymond Nonnatus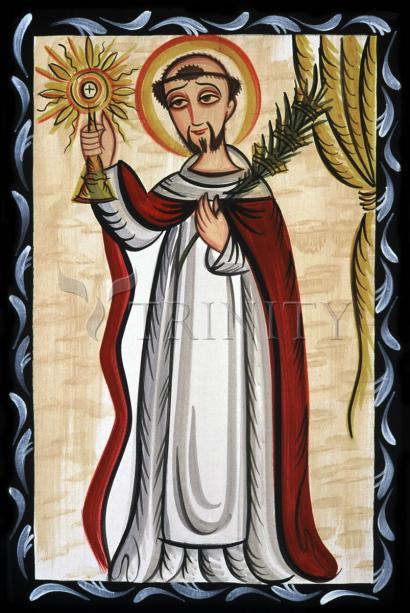 Regular price

From $99.95 USD

Regular price

$111.06 USD

Sale price

From $99.95 USD

Unit price

per

Regular price

From $39.95 USD

Regular price

$44.39 USD

Sale price

From $39.95 USD

Unit price

per

Regular price

From $19.95 USD

Regular price

$22.17 USD

Sale price

From $19.95 USD

Unit price

per

Regular price

From $300.00 USD

Regular price

$333.33 USD

Sale price

From $300.00 USD

Unit price

per

Regular price

From $159.95 USD

Regular price

$177.72 USD

Sale price

From $159.95 USD

Unit price

per

Regular price

From $159.95 USD

Regular price

$177.72 USD

Sale price

From $159.95 USD

Unit price

per

Regular price

From $159.95 USD

Regular price

$177.72 USD

Sale price

From $159.95 USD

Unit price

per
ARTIST: Br. Arturo Olivas, OFS
ARTWORK NARRATIVE:
San Ramon was a 13th century Spanish priest who joined the Mercedarian order charged with the ransom of Christian captives from the Muslims of Spain and northern Africa. He was very successful in this work and at one point traded himself into captivity in order to free some Christians. As a slave he refused to stop preaching and so his captors had his lips padlocked. Eventually Ramon was ransomed and became a cardinal. In sacred art Ramon is often shown wearing the crimson and white vestments of his order, carrying a monstrance and the palm of martyrdom with three crowns.

In New Mexico Ramon is the patron of pregnant women, women giving birth, and the unborn. He is also patron of secrecy, anonymity, and protector against slander and captivity. A small village in northern New Mexico is named after him.

His feast day is August 31.
Read More
Born at Portella, Catalonia, Spain, in 1204; died at Cardona, near Barcelona, Spain, in 1240; canonized in 1657.
What we know of Raymond's life comes from late and somewhat deficient sources. His surname is not that of his family but because his mother died giving him birth and he had to be removed from the womb by Caesarian section (nonnatus = "not born"). He was not expected to live, but he did. His father, a wealthy, authoritarian man, was ambitious for his son to play a part in the court of the king of Aragon and ensured he had a good education. Raymond, however, preferred to study religious books rather than secular subjects. Alone in his room, he grew in piety. His father, alarmed at his growing vocation, sent Raymond to one of his farms and appointed him its manager. Soon the young saint settled down where he went off to live with shepherds. He enjoyed the life, ignored its hardships, and lost himself in solitude and prayer. But his lifestyle aroused the envy and suspicion of others, and so, once again, Raymond was forcibly moved.
When he was able, he entered the Order of Our Lady of Mercy or the Mercaderians, which had been founded by Peter Nolasco at Barcelona. The order was dedicated to the ransoming of Christian captives who had been taken by the Islamics and were being held in prison in Algeria. Raymond quickly settled in, followed the exercises of faith that taught him patience, detachment, charity, the poverty of the poor, and the humility of the truly humble. When the founder retired, Raymond took his place as chief almoner and set off for Algiers with the gold that had been contributed by Christians.
This was a labor of love for the saint to deliver so many prisoners from their chains and dungeons and despair, especially when he realized that the faith of the prisoners was in even greater danger than their bodies. When he had spent all the money, he unhesitatingly offered himself in exchange. He was imprisoned, but gave thanks to our Lady for it.
In prison he converted some of his guards to Christianity, which enraged the Moors. He was denounced, beaten in public. The governor would have killed him by impalement had not others realized that a rich ransom would be paid for this particular Christian. Instead his lips were pierced and closed with a chain so that he could no longer comfort his friends or convert his jailers. After eight months of torture, Peter Nolasco arrived and paid his ransom. When he left for Barcelona, he was saddened at having left so many others behind, but Saint Peter forbade him to remain.
When Pope Gregory IX made him a cardinal of Saint Eustacius, Raymond did nothing to change his lifestyle. He wore the same clothes, ate the same food, lived in the same monastery in a cell as before this honor. He received few visitors and ignored the count of Cardona and other important personages who disapproved of his simplicity and tried to persuade him to adopt one more suited to his dignity as a cardinal.
In 1240, Pope Gregory summoned Raymond to Rome, perhaps to see this man whose reputation for holiness was so great. When Raymond left the monastery, people ran to see him and do him honor. But at Cardona, he was struck with fever and died the same day at the age of 36.
In art, Saint Raymond is a Mercedarian (white robe with badge on the breast) with a chain and padlock on his lips in remembrance of his captivity. He may also be shown surrounded by Moors and captives or dressed as a cardinal and presiding at chapter. He is highly venerated in Spain as the patron of children, domestic animals, innocent captives, the falsely accused, nurses, and midwives. He is invoked during childbirth and fever.
Born: 1204 at Portella, diocese of Urgel, Catalonia, Spain
Died: August 31, 1240 at Cardona, Spain of a fever; buried at the chapel of Saint Nicholas near his family farm he was supposed to manage
Canonized: November 5, 1625 by Pope Urban VIII (cultus confirmed); 1657 by Pope Alexander VII (canonized)
Name Meaning: Not born (= non-natus) as he was delivered by ceasarian