Collection:

St. Valentine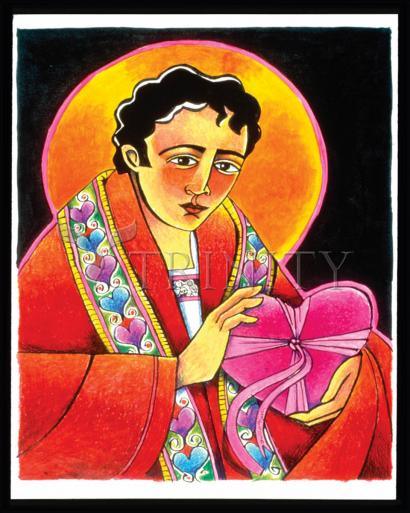 Regular price

From $99.95 USD

Regular price

$111.06 USD

Sale price

From $99.95 USD

Unit price

per

Regular price

From $34.95 USD

Regular price

$38.83 USD

Sale price

From $34.95 USD

Unit price

per

Regular price

From $19.95 USD

Regular price

$22.17 USD

Sale price

From $19.95 USD

Unit price

per

Regular price

From $300.00 USD

Regular price

$333.33 USD

Sale price

From $300.00 USD

Unit price

per

Regular price

From $109.95 USD

Regular price

$122.17 USD

Sale price

From $109.95 USD

Unit price

per

Regular price

From $149.95 USD

Regular price

$166.61 USD

Sale price

From $149.95 USD

Unit price

per

Regular price

From $109.95 USD

Regular price

$122.17 USD

Sale price

From $109.95 USD

Unit price

per

Regular price

From $84.95 USD

Regular price

$94.39 USD

Sale price

From $84.95 USD

Unit price

per

Regular price

From $94.95 USD

Regular price

$105.50 USD

Sale price

From $94.95 USD

Unit price

per
ARTIST: Br. Mickey McGrath, OSFS
ARTWORK NARRATIVE:
A PRAYER TO ST. VALENTINE

Dear Saint and glorious martyr; Teach us to love unselfishly
and to find great joy in giving. Enable all true lovers to bring
out the best in each other in God and in God in each other.
LOVE
Love is Patient and Kind,
It doesn't envy or Boast and it's never proud,
Love is not rude or selfish,
It doesn't get angry easily or keep track of wrongs.
Love doesn't delight in bad things
But it rejoices in the truth.
Love always protects, trusts, hopes and perseveres.
Love never fails.

His feast day is February 14.
Read More
Valentine was a priest in Rome, possibly a bishop. He was also a physician. Valentine was imprisoned for giving aid to martyrs in prison, and while there converted the jailer by restoring sight to the jailer's daughter. While Valentine of Terni and Valentine of Rome sometimes have separate entries in martyrologies and biographies, most scholars believe they are the same person.

There are several theories about the origin of Valentine's Day celebrations. Some believe the Romans had a mid-February custom where boys drew girls' names in honor of the sex and fertility goddess, Februata Juno. Pastors "baptised" this holiday, like some others, by substituting the names of saints such as Valentine to suppress the practice. Others maintain that the custom of sending Valentines on 14 February stems from the belief that birds begin to pair on that date.
By 1477 the English associated lovers with the feast of Valentine because on that day "every bird chooses him a mate." The custom started of men and women writing love letters to their Valentine on this day. Other "romance" traditions have become attached to this feast, including pinning bay leaves to your pillow on Valentine's Eve so that you will see your future mate that night in your dreams.
Died: Beaten and beheaded c.269 at Rome; buried on the Flaminian Way; relics later translated to the Church of Saint Praxedes.
According to a legend, born in Anglo - Saxon countries, St Valentine used to give the young girls and boys going and seeing him a flower of his garden. Two of these young people fell in love with each other and got married. St Valentine blessed their marriage and their union was so happy and serene that many other couples wanted the Saint Bishop to bless their marriage.

In order to satisfy the numerous demands, he fixed a day of the year in which he gave all couples his general wedding blessing. For this reason he began to be called protector of engaged people.

Moreover the popular tradition hands down the legend of SABINO and SERAPIA. It emphasizes that love is much stronger than death, when it binds two people in God's name. Sabino, a pagan roman, centurion and a Christian girl, Serapia, fell in love with each other, but their parents impeded their union because of the persecution of the Christians.
However they went on loving each other and Serapia's words and behaviors won Sabino who began to be interested in the Christian religion so that at last he asked to become a member of the Christian community. St Valentine explained the mysteries of Christian religion to him, took care of them and prepared them for a Christian marriage. Everything was ready for the baptism and marriage, when Serapia got phthisis.
It was the end of a dream. Sabino didn't want to leave his beloved Serapia. So he asked the Saint Bishop to baptize him, marry them and pray God to let them die together. And it happened.
—Excerpts from Saint Valentine The Patron of Love, Author Unknown