Collection:

Woman with a Hemorrhage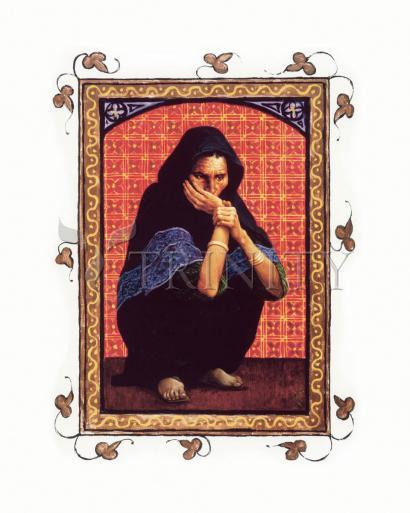 Regular price

From $99.95 USD

Regular price

$111.06 USD

Sale price

From $99.95 USD

Unit price

per

Regular price

From $34.95 USD

Regular price

$38.83 USD

Sale price

From $34.95 USD

Unit price

per

Regular price

From $19.95 USD

Regular price

$22.17 USD

Sale price

From $19.95 USD

Unit price

per

Regular price

From $300.00 USD

Regular price

$333.33 USD

Sale price

From $300.00 USD

Unit price

per

Regular price

From $149.95 USD

Regular price

$166.61 USD

Sale price

From $149.95 USD

Unit price

per

Regular price

From $149.95 USD

Regular price

$166.61 USD

Sale price

From $149.95 USD

Unit price

per

Regular price

From $149.95 USD

Regular price

$166.61 USD

Sale price

From $149.95 USD

Unit price

per
ARTIST: Louis Glanzman
ARTWORK NARRATIVE:
"A woman had been afflicted with a hemorrhage for a dozen years...She had heard about Jesus and came up behind him in a crowd and put her hand on his cloak. 'If I just touch his clothing,' she thought, 'I shall get well'...Immediately her flow of blood dried up... Wheeling about in the crowd, he began to ask, 'Who touched my clothing?' ...Fearful and beginning to tremble now...she fell in front of him and told him the whole truth. He said to her, 'Daughter it is your faith that has cured you...'"
(Mark 5:25-34)
Read More
Somebody touched me. I felt that power had gone out from me. (Luke 8-46)
St. Luke presents to us two other miracles, Jairus' daughter raised to life, and the cure of the woman with a hemorrhage. The reason for this repetition of prodigious acts is to let our belief take deeper root in the truth that Jesus is Lord, God, and Messiah, who has come to redeem the human race. He presents us His Mission through His divine work, to consolidate our faith in Him. Didn't the Jews ask often " who can raise from the dead except God? Who can clean uncleanness except Yahweh? Who can forgive sins but God alone?" Yes, Luke with the other Evangelists lays his proof of the Divine Nature on the work done by Jesus.
While Jesus is talking with a respected man, Jairus, about the illness of his daughter, the Lord said: "Who touched me?" Isn't His intention to postpone the conversation with Jairus, just to tell us that our belief in Him is enough to cure our soul and our illness?. This lady, suffering for years from a condition considered unclean according to Jewish Law was therefore, declared unclean.

She had spent all she had on doctors, and medicines and no one could cure her. It did not happen through medications, but a touch of the cloak of Jesus was enough to be cured. Jesus said: "a power has gone out of me." This power is regarded as a physical emanation that heals. Jesus heals by contact, to show us the power of his humanity. "My daughter your faith has restored you to health, go in peace." (Luke 8-48).

On the other hand this lady came incognito, not only from a sense of shame but also because the complaint involved legal impurity. Again Jesus said: "My daughter go in peace, your faith has restored your health." What a trust, what a strong faith, and what a confidence this lady had in Jesus! Our request must be done in faith and in humility. It means the more we believe the greater is our humility.

In the second miracle of the Gospel, St. Luke tells us that the petitioner, Jairus, prostrates himself, knowing that he is a respected elder, who presides over meetings in the Synagogue. Is not this act of prostration like our way of submission to the high ranking authority? In our tradition, do we not salute, bow and immediately stand up while we place the right hand on the breast, then the lips and than the forehead? This is the way to express total submission, which could be translated with the word "adoration and worship."
Two different miracles, but both are given `life.' The lady is suffering since twelve years, and the girl is twelve years old; the author wants to tell us that both are in the same situation, and only Jesus can give them life again. Should we not meditate on the fact that Jesus is the only Medicine who can restore life? Life does not mean only bodily health, but spiritual health and ultimately the Resurrection to eternal life, in His company. Isn't His mission to restore the Kingdom of God, Eternal Happiness with God, in Him and through Him?
—Excerpts from Our Lady of Lebanon Parish: Third Sunday of Lent Sermon of the Week: The Woman with a hemorrhage